Rockland Industries Exits Several Textile Trade Shows. Are Trade Fairs Obsolete?
MoOD+Indigo Closes, Proposte Changes Dates and NADFD Pivots Format
August 13, 2019
By RAY PARKER
BALTIMORE --  Rockland Industries President Darren Fradin says he started questioning attending textile fairs during this year's Heimtextil in Frankfurt, Germany, then had serious doubts during the HD Expo in Las Vegas.
Fradin, who has been attending trade fairs since the 1990s, and his team are now questioning the ROI [return on investment] of attending all textile fairs. Rockland is known for its Roc-lon blackouts.
"The traditional type of trade show," Fradin says. "is becoming less and less effective. … These are expensive [to attend]. … Is it wise to spend $20,000 for those events? All are being discussed."
Rockland Industries President Darren Fradin says textile fairs need to change with the Internet Age.
Textile trade fairs had a rocky year in 2019, starting with Proposte organizers, who moved up their dates from May to April, so that Proposte would follow Salon Del Mobile (The Milan Furniture Fair), thereby, the reasoning went, attracting more visitors. Proposte started in 1993.
National Association of Decorative Fabric Distributors (NADFD) members are following a similar pattern in 2020, when the group's fair will gather after BDNY for the first time. NADFD started in 1968.
But the biggest blow came later this year when MoOD+Indigo organizers announced the trade fair would be canceled because of low participation, only 50 exhibitors had signed up, down from 200 the previous year. MoOD started in 1999.
"We're pulling out of Heimtex because the foot traffic in our hall last year was almost non-existent, they wouldn't move us to a busier hall for 2020, and we're seeing a trend with this type of show: less and less traffic each year," Fradin says.
Rockland Industries exhibition space during Heimtextil 2019 near the "trend area."

MARKETS CHANGE, SO MUST TRADE SHOWS
The Internet has changed the textile business, but not all trade shows have changed in response, Fradin says. But there is a solution, especially since the textile business still runs on relationships and on trust.
"It's a different time with the Internet," Fradin says, citing slower foot traffic at the HD Expo in Las Vegas. "Even High Point [Showtime Market] has lost the magic it used to have."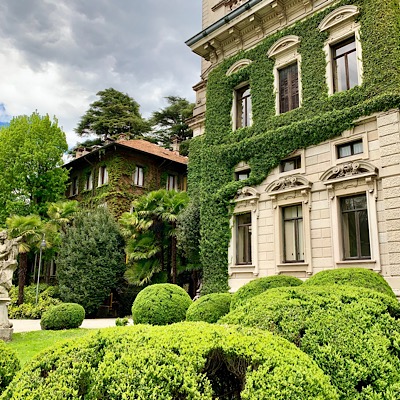 Proposte is held at the Villa Erba in Cernobbio, Italy, and its convention hall, near Lake Como. 
Typically, Rockland executives attend four to six shows a year.
"We are going to start exploring more dynamic events, where you can have one-on-one meetings and relationship-building opportunities with key decision-makers in the industry," Fradin says.
He applauds shows such as the Cruise Ship Interior Expo, held June 18-20 for the first time in Miami Beach, Florida. Fradin says Rockland landed three important orders because buyers and sellers could sign up for one-on-one meetings.
Fradin points to the upcoming All Aboard Design event, a cruise from March 12-16, 2020, from Fort Lauderdale, Florida to Cozumel, Mexico, as the future. [Full Disclosure: F&FI Publisher Michael Schneider is the organizer of All Aboard Design.]
"I think it's right on the money with these matchmaking events," Fradin says. "Today, it's more about getting your targeted message across … and having a meeting with a key decision-maker and building time for relationships."
Fradin adds: "[Trade shows] are going to have to continue to evolve. If they want to keep us, they need to make it more valuable to us."
Read more about changes in textile trade fairs by clicking on these links.  
BIO: DARREN FRADIN
[Editor's Note: Rockland Industries provided the following biography.]
Darren Fradin literally grew up in the home textiles industry, attending his first Heimtextil exhibition at the age of 19 while still a student at the University of Maryland. Since then, he's accrued more than 30 years of sales and management experience in the trade.
Prior to joining Rockland Mills, where he serves as president, he held senior positions at Sunbury Textile Mills, Covington Fabrics, P. Kaufmann, and Anju/Woodridge. Over the past decade at Rockland, he's directed international and domestic sales, played an integral role in expanding the company's product range, and has spearheaded the company's marketing department.
A native of Baltimore, Fradin is fluent in Spanish, a member of Mensa, a skydiving and snowboarding enthusiast, and graduated with a bachelor's degree in marketing from the University of Maryland at College Park, where he was a member of the Delta Tau Delta fraternity. He is married to Kirsis Fradin, and has two children, Max and Marco.  
---