Latest News
---
Valdese Names Blake Millinor President
Assumes CEO Role When Shelton Retires
VALDESE, NC—Blake Millinor  is the new President of Valdese Weavers as of March 1. Valdese is one of the largest mills in the world today according to F&FI. Michael Shelton will continue to serve as CEO of the company but Millinor is expected to…
Read more.
March 2, 2021

Mobus Ltd. MD Ian Bostock to Retire
ELLAND, WEST YORKSHIRE, UK--Ian Bostock, Managing Director and principal of Mobus Fabrics Ltd. will retire in May 2021 according to Lee Paxman, sales director. There are four active partners at Mobus including Bostock. The others are Lee Paxman, Grant…
Read more.
March 2, 2021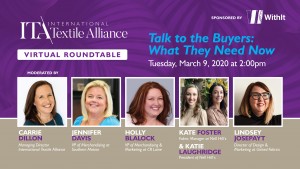 ITA Virtual Panel March 9:
Are you changing your buying habits like your industry peers?
HIGH POINT, NC—The International Textile Alliance, organizers of Showtime is hosting a roundtable discussion about changing buying habits for the upholstery business. You can join the virtual discussion of current trends in textile buyer behavior. The…
Read more.
February 24, 2021