NADFD Pivots Annual Meetings, Piggybacks With BDNY 2020
July 30, 2019
By RAY PARKER
PARK CITY, Utah — NADFD members will change their annual meeting in 2020, gathering immediately after BDNY. 
Founded 51 years ago, the organization faces declining membership, along with industry shifts, requiring the new format.
Members will now gather immediately after BDNY, which ends on a Monday in November. They will meet on that Monday night and the following Tuesday. BDNY 2020 dates are unavailable at the time of publication.
Richard "Dick" Mayer, whose son, Rob, is currently the NADFD president, helped to create NADFD.
Rob Mayer says the group has five paying member-companies but requires 8 or 9 in 2021, and twelve in 2022.
NADFD President Rob Mayer in Park City, Utah.
Current member-companies include Mayer Fabrics, Silver State Fabrics, Keyston Bros., Burch Fabrics, and Momentum Group.
Mayer says in 2021 the traditional, longer format will return so that the annual meetings will alternate between short, two-day gatherings tied to established trade shows, and the traditional format, which can last five days depending on travel distance.
For example, this year's meeting held June 23-26 at Park City, about 45 minutes from the Salt Lake City International Airport, required five days for many with traveling included.
"The plan is to reinvigorate the organization by bringing more people in from all the [current] member-companies," Mayer said during this year's meeting, held at a Utah ski hotel. "Also, looking at more regular members, the jobber-distributor companies, to the organization … at an event like BDNY, which allows those people already there to stay on and join us."
​Rob Mayer and others say the traditional-NADFD-annual meetings have allowed for not only time to conduct business, but time for social interaction and networking. They say this is a unique opportunity not available in other industry trade shows or events.
For example, this year's conference included a golf tournament, afternoon trip to the Utah Olympic Park, and three days to carve out time for conversations.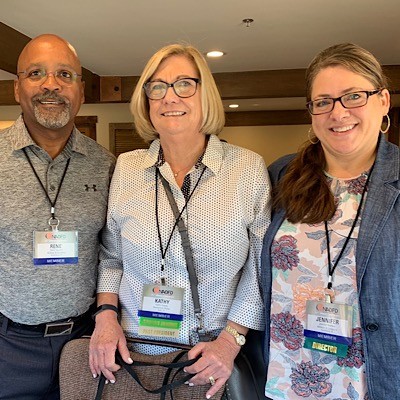 Rene Vaughn (l to r), director of sales, Milliken & Co. in Spartanburg, S.C., Kathy Gowdy, vice president of operations, Momentum in Irvine, Calif., and Jennifer K. Harmon, vice president of textile design and color, at Milliken & Co., during NADFD 2019 conference in Park City, Utah. 
"I got to talk to [Principal of Kravet Inc.] Scott Kravet about warehouses," Ted Sargetakis, principal of Silver State, said about a previous NADFD conference. "Where else could I have done that [except at NADFD]?"
In the F&FI Top 25 North American Jobbers List [Winter 2018/2019], Kravet came in first place with an estimated $250 million in annual sales. In the F&FI World's Top 40 Contract Fabric Specialists [Autumn 2019], Silver State was in the thirty-first spot with estimated sales of $10 million.
MAYER FABRICS GREW WITH NADFD
"Growing up and coming to these events allowed me to learn how to be a distributor," Mayer said. "And also, to learn who our suppliers were as well as to learn, as I got older in the organization … to learn who we were competing with and get to know those people.
"So, it gave us an idea of where to focus our business and our market."
He explains Mayer Fabrics, founded in 1897, started in the residential market, but gradually pivoted into new areas in the late 1980s, and has continued to diversify every decade since. The company has shifted into the contract industry: corporate, healthcare, hospitality, education, and government.
"It was a great decision by my father to take the company in that direction," Mayer said. "The residential business was becoming much more competitive at the time. And you're seeing a shift right now of the residential companies trying to get into the contract side."
In the F&FI World's Top 40 Contract Fabric Specialists [Autumn 2019], Mayer Fabrics was seventeen with estimated sales of $25 million. Mayer says the company has experienced an average annual growth of 10 percent in the last five years.
"An event like tonight allows people to network and really build a relationship," Mayer said at the announcement in Park City. "We're doing a Family Feud [modeled after the TV game show] after our closing dinner. It's a fun thing that relaxes people … and opens people up."
Ben Mazor, account executive, and Susanna Kwan, sales manager, both at Dominion Sample in Montreal, Canada, during NADFD 2019 conference.
NADFD officials have some time to pivot the organization and recruit new members. It has a budget reserve of $100,000.
NADFD AWARDS FOR 2019
NADFD President Rob Mayer, left, with Rob Harper, senior vice president at Valdese Weavers, winning the Textile Mill Award.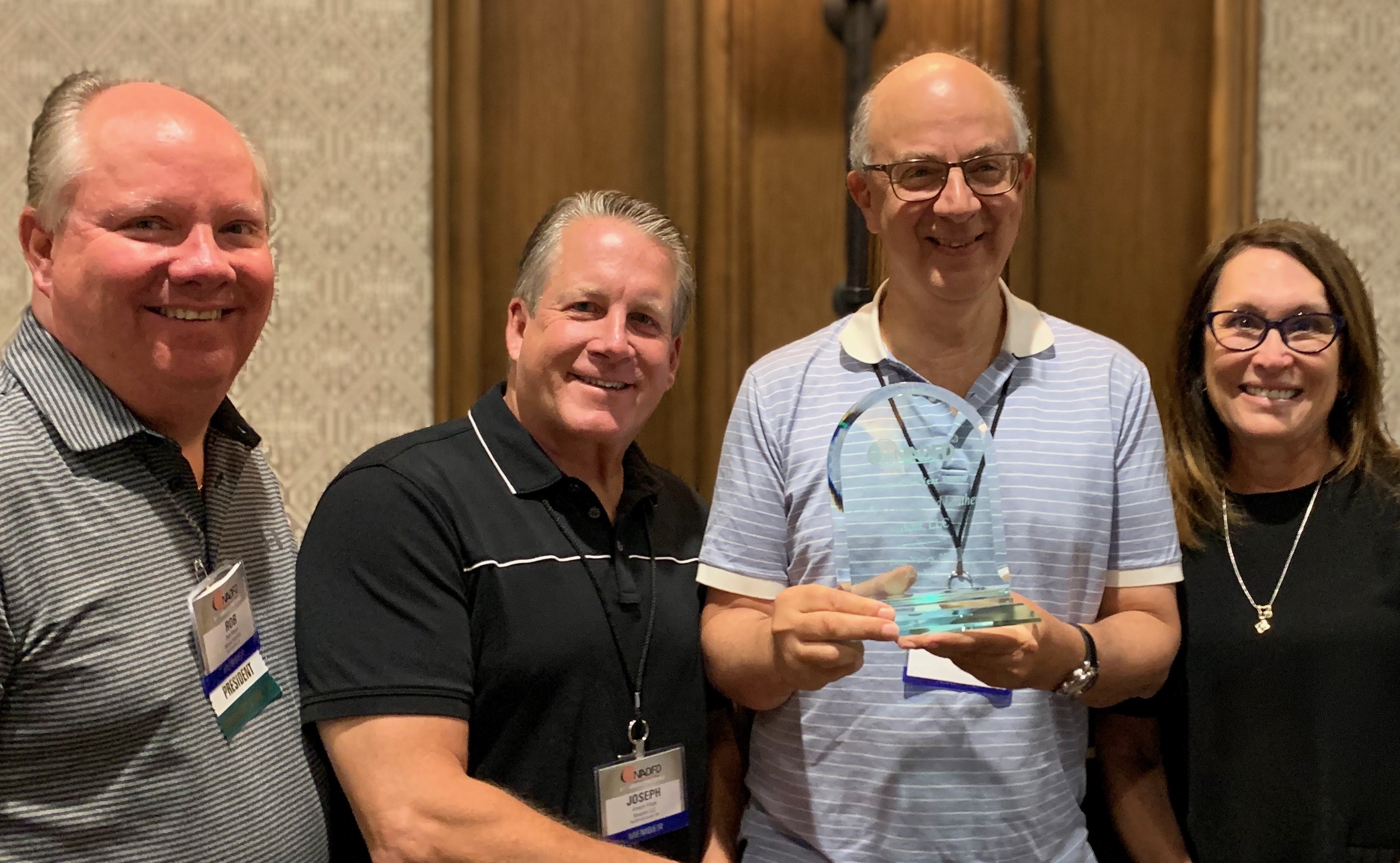 NADFD President Rob Mayer, l to r, Joe Filippi, vice president of business development at Nassimi, Edward Nassimi, principal at Nassimi Textiles, and  Debbye Lustig, vice president of design and sales at Nassimi, winning the Coated Leather and Fabrics Award
.  
---