Intertextile Shanghai Home Expo 2020 Impressions
Few foreign visitors or new fabric samples, according to a source
September 11, 2020
SHANGHAI – The Intertextile Shanghai Home Textiles expo had few new fabrics on display, according to Juliana Fang, China branch office manager for Fibers & Color International.
Visitors discuss business during Intertextile Shanghai Home Textiles 2020. Courtesy Intertextile Facebook page. 
"Almost no new fabric samples, most booths are showing the old samples," says Fang, who attended the trade fair here on Aug. 24-26. "The exhibitors are less than the previous fair and most booths are standard size. The special-decoration booths are not too many."
In March, the Intertextile Shanghai spring fair was canceled because of the coronavirus pandemic. Other major trade shows were canceled this year as well, including
Evteks
(Istanbul, Turkey) and
Proposte
(Lake Como, Italy).
Fang says she saw few foreign visitors in Shanghai: "In my three days visiting, I just saw almost no foreigners in the fair -- only five."
Organizers say visitors could connect through in-person and virtual-online meetings with more than 600 exhibitors in the residential and contract industries.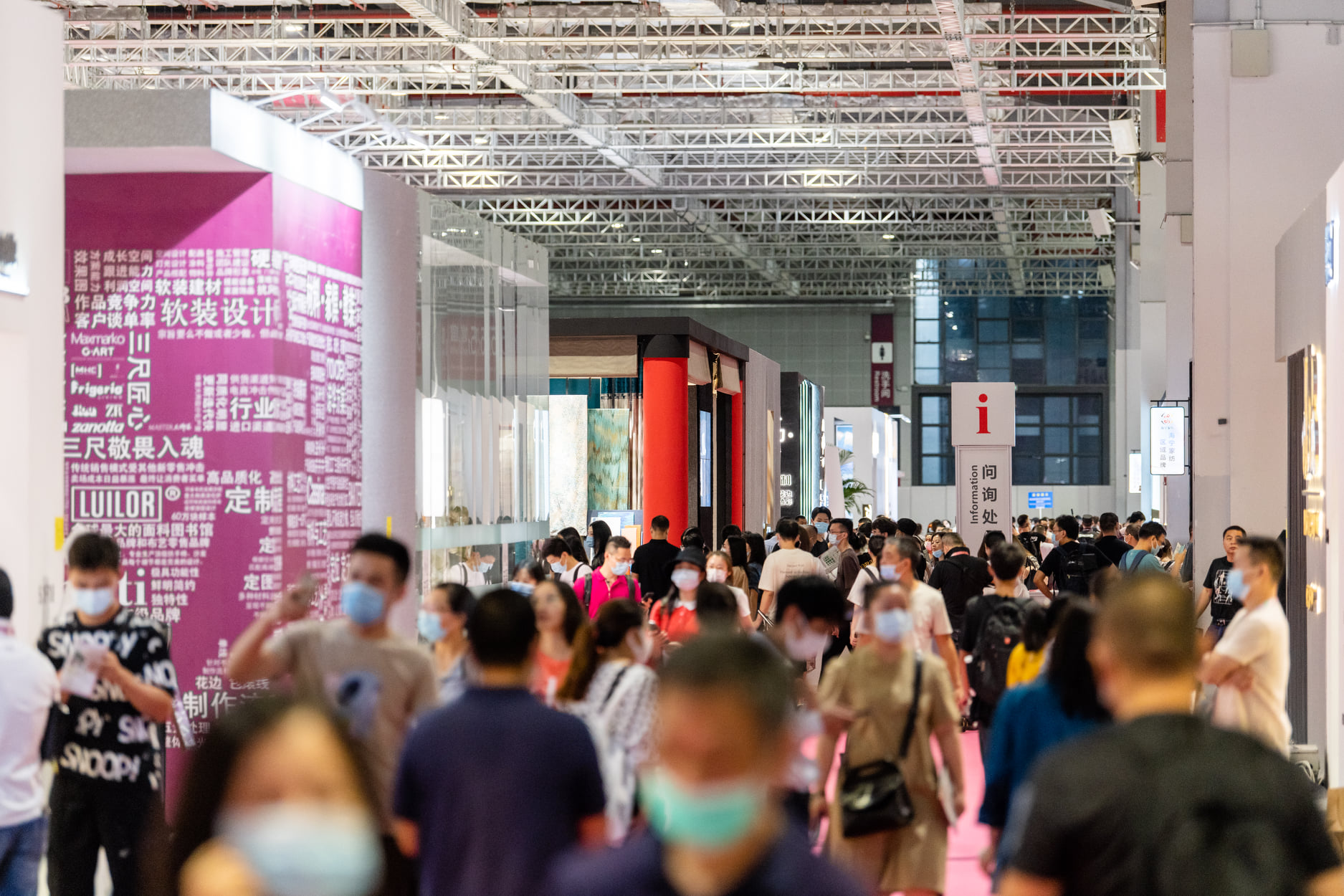 Vistors walking through Intertextile Shanghai Home Textiles in August. Courtesy Intertextile Facebook page. 
Calling it Contract Business 360°, organizers featured more than 40 contract upholstery exhibitors, including Guangzhou Yuanzhicheng Home Textile, Haining Julai Textile, JAB, Morgan Shanghai, Symphony Mills, Suzhou Roufang, Ter Molst International, Zhejiang Hexin, and Zhejiang Maya Fabric.
Also, Agmamito from Poland and Wollsdorf Leather from Austria exhibited for the first time, according to organizers.
"I came to this fair to find new developments, new marketing ideas, interesting filling and fabric composition blends," Elena Salsera, quality director, China branch general manager, Togas Group USA, says in a Messe Frankfurt press release. "It's quite promising for the bedding segment in general and I was able to find a couple of really good and useful suppliers."
Togas sells luxury custom-made services, home textiles, and readymade bedding products in 140 stores in seven countries, according to its website.
Fang says there was a focus this year on RPET, or recycled polyethylene terephthalate. PET is a strong, durable, and recyclable material that is used for soda bottles, water bottles and food jars, while RPET can be made into fabric and more. This is being advertised as improving the environment, Fang says, and the RPET fabric looks the same as the conventional kind, except it's more expensive.
"I also saw some new items woven [in] fancy thick yarn-rope, which is mainly for Chinese wholesales," she says. "It is heavy and used for the high end."
As expected, Fang adds, there were special finishes addressing coronavirus concerns.
In addition to body-temperature tests, visitors had their faces scanned and identification checked at the fair.
"In 2020, there is only four halls for the exhibition," Fang says. "I saw some empty space … [and] if I remember well, in 2018-2019 fairs, the exhibition was about six to seven halls."  
---