Spotlight on Two Innovative Women Leading in Textiles: Susan Lyons, Designtex President, and Randy Rubin, Crypton Co-founder
Both Collaborate on the 5x5 Collection, Representing the Latest Textile Technology as well as the Duo's Business Ties
November 28, 2018
By RAY PARKER
Susan Lyons and Randy Rubin started at different career paths, but the women have converged today as veteran leaders in the textile industry.
For the past six years, Lyons has led one of the largest American contract-textile companies as president of Designtex, with around $70 million in annual sales.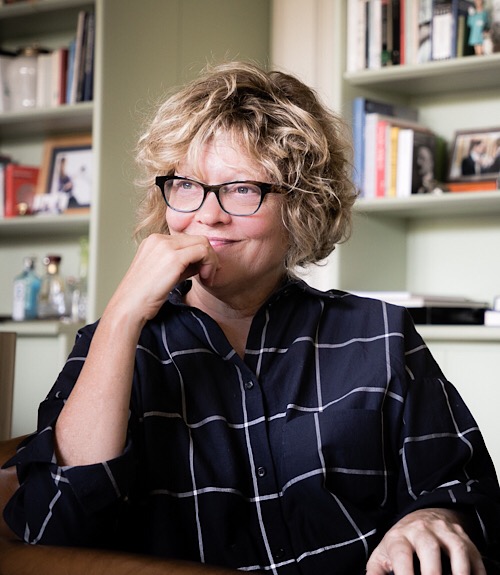 Susan Lyons is president of Designtex.
Rubin's company grew from her home garage into a global enterprise, who along with her husband, runs  Crypton Fabrics. Twenty-five years ago, Crypton introduced its cutting-edge. high-performance prints, which allowed decorative fabrics to be placed in high-use applications, a breakthrough at the time in contract textiles, according to the company.
Randy Rubin is cofounder of Crypton. 
The duo released the 5x5 collection to celebrate the two companies and the women steering them. It's a collection of five fabrics by five artists, using innovative fabrics (stain-, moisture-, and odor-resistant polyester) and technology (digital printing with bold color and clarity).
The Designtex 5x5, a Crypton collection, pays homage to many areas, including giving back to the community. Designtex and Crypton are partnering, and donating proceeds, to RxArt, a non-profit organization that promotes children healing through the visual arts in healthcare settings.
They met 25 years ago, and in the following interview, Lyons and Rubin reflect on many things, such as women progressing into leadership roles, the evolution of the textile industry, and the importance of relationships, and even friendships, in business.
What was it like for you as a woman starting out in the industry?
Lyons:
I never really felt that I was being held back due to my gender. Were a lot of the leadership positions held by men? Yes. Were a lot of the leadership positions in design and marketing held by women? Yes.
Perhaps, 25 years ago, women were gravitating to a certain side of the business more than they do today. Now I see more women in leadership positions, so perhaps that feels like progress.
Rubin:
Twenty-five years ago, I walked into the textile market armed with Crypton, a new fabric technology that would soon change the industry. At that time, the notion of a fabric that resisted stains, liquid, and odors was completely unheard of—it defied common textile thinking. So I'll admit, when I walked into a room comprised mostly of men—it was interesting, to say the very least.
Back then, women in leadership positions were mainly in design, and sometimes marketing, not many in decision-making roles. It was difficult, but I was determined not to be intimidated. I may have been new to the textile world, but I knew marketing. I was steadfast in communicating that I could make these companies money. Once I was able to demonstrate that strong branding can increase the bottom line—everyone's attitudes started to change.
How has your company changed the most since you started at it?
Lyons:
When Designtex began, we were strictly a textile company. And while textiles are a first love, today I feel we are a design company that makes and manufactures many different types of materials for the built environment. I believe the A&D community is looking for new materials to solve new problems and to deliver new experiences. The opportunity to bring new applied materials to the market is very exciting right now.
Rubin:
There has been a great deal of change, but the drive to create fabric technologies that provide true solutions remains at the heart of Crypton. When Craig and I started, it was just the two of us in the basement of our home. Today Crypton is comprised of our corporate offices in Michigan, our factory in Kings Mountain, North Carolina, and our Nanotex office in Hong Kong. There are new faces, new ideas, new approaches, and technologies abound, but the culture is amazingly consistent, which is something we are very proud of.
What does the 5x5 collection represent for you personally?
Lyons:
Designtex tries to operate at the intersection of function and aesthetics, as well as the intersection of technology and craft. This collection checks all our boxes: Crypton offers a great benefit to the user, and the technology delivers an added layer of performance. We are always looking for that in any material that we produce. We ask ourselves: "How can the product deliver an additional service?"
We also love collaboration because it can push us to challenge ourselves and our processes. We have a long history of projects that we've done with people I call 'high practitioners,' and this group of artists fits that description beautifully. I also love that we found such a beautiful marriage of the new Crypton print grounds with our artful digital printing.
Rubin:
The 5x5 Crypton Collection has multiple meanings. It represents a celebration of a relationship, a technology, and giving back. It celebrates a personal and professional relationship that Susan and I have shared since Crypton launched 25 years ago. Designtex, particularly Susan, was an advocate for us since the day we came to their boardroom and spilled coffee on the fabric. I remember so vividly meeting the Designtex team thinking that these people are a force in the industry—here we are with our piece of fabric, trying to convince them to take a major chance on us. We were scared beyond words, but we walked away with a new customer, one which has grown with us every year.
Workers produce the  5x5 collection at the Designtex digital-printing factory in Portland, Maine.
One of five fabrics designed by artists for the 5x5 collection. 
5x5 also represents technical breakthroughs. The 5x5 Crypton fabric has an incredibly soft hand, one we have been perfecting for several years. It is so soft that the barrier is almost undetectable. We produced two amazing options for Designtex, which both have all the features of the integrated barrier, unparalleled stain and microbe resistance, strength, and still vapor permeable. In addition to our technology, Designtex's digital printing capability is amazing. There are literally no boundaries to how long or wide the design must be. Colors are endless.
This collection also marks a full-circle moment for us. When we began 25 years ago, we launched with prints, and the heat transfer paper repeats required limited designs. Digital printing allows for a great deal of freedom—ultimate design freedom.
The third thing is the representation of the work of each of the five artists. Each brings a different perspective that really rounds out the collection as a whole. The marriage of art with Crypton is just incredible to me. It is art on a fabric that can withstand so much abuse, A portion of the proceeds will be donated to RxArt. Both Susan and I have worked with them and truly believe in their mission of bringing art into hospitals as a way to inspire and lift spirits, and decor. Making sure this organization can thrive is important to all those who are involved in this project.
How has the innovation of digital printing affected your company/products?
Lyons
: We purchased our digital printing factory in Portland, Maine, in 2012. Our facility is run by artists, so we have such talented eyes and hands on the quality of the file and color management, and the fidelity of the printing. Many digital printing shops come out of the billboard and point-of-purchase industries. Our shop started by producing museum-quality photographic prints, and that history of rigorous quality standards can be seen in our work today. I can say we have the best printing in the industry—and that is not an empty boast!
Rubin:
The fact that Crypton has a PFP [prepared for print] fabric that works within digital printing is a game-changer for the industry. Now one can have soft, yet heavy-duty, durability coupled with bright, clear, and stunning prints. In the case of 5x5, beautiful, large-scale art printed on Crypton.
What do you see as the biggest changes/challenges in the next few years?
Lyons:
The contraction of the textile supply base. It is heartbreaking to see mills and spinners going out of business. Everyone's diminishing ability to focus.
Rubin:
The biggest challenges will be determining what the economy is going to do. The tariffs could become an issue, and there will be disruption with domestic mills as well. How all of this will shake out is conjecture. I would love to think that a big challenge would be how America can get back production of textiles in a cost-efficient way. For Crypton, the challenge is always to be the very best in class. Today, the trend is definitely going for performance across the board, and keeping the competitive advantage is something we think about every day.
Any advice you would give to women starting in the industry today?
Lyons:
Take more accounting classes. Learn how to code. Don't be shy about expressing your thoughts and opinions forcefully.
Rubin:
As a woman, I learned very early not to speculate an answer. I knew what I knew, and only then did I hold my ground. Knowledge is power, but you have to use it very wisely. I like to be in meetings where I say very little for a while. I listen, I watch body language, and get the lay of the situation—then, I insert myself if I have something to contribute. I have also learned that the fact that I give very straight, definitive answers is really appreciated. Always keep in mind that in the business world people want to make money. I truly believe that if I can bring to the table something that will generate more money, it does not matter what gender I am.
Would you like to add anything?
Rubin
: Crypton grew organically at a time when crowdfunding and VC were not in the picture. What you now see as a dynamic global leader in performance fabrics was birthed from our basement. I said early on that the goal is to be a household name, and that is where we are headed. Failure was never an option. Crypton is really the American dream.  
---