ITA Manager Moves: Carrie Dillon Becomes New Managing Director, While Brian Casey Resigns as Executive Director
Showtime tradeshow remains on schedule for Nov. 15-18, 2020
August 28, 2020
HIGH POINT, N.C. – Carrie Dillon has been promoted to the newly created position of ITA managing director.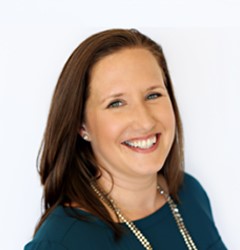 Carrie Dillon 
She will continue management of the International Textile Alliance (ITA), the nonprofit that organizes the Showtime Market tradeshows.
ITA has cut staff since Executive Director Brian Casey resigned, according to officials. He has not announced his next career move.
Brian Casey / Screenshot via LinkedIn
"With COVID-19 creating so much disruption in the textiles, trim, and leather industries, ITA has seen a contraction of the member mills and a consolidation of the industry as a whole," officials say in a statement. "As a result, the ITA saw the decision to scale back its management team as the right one for the current times."
ITA officials say they will continue the bi-annual tradeshows and have added a new temporary floor in the Market Square Tower. Although the show was canceled in May, the next Showtime in November is proceeding, officials say.
In addition, Patrick Shelton, vice president of sales at Valdese Weavers, has been elected to join the ITA Board of Directors.
CARRIE DILLON
Dillon has been with ITA since 2014 and has grown through its ranks, first as assistant executive director and then taking on the additional management of the ITA Educational Foundation in 2017.
Board President Kelly DiFoggio said: "We are grateful to Brian [Casey] for the work he has done over the past 2 1/2 years. He has given a professional face to the ITA and has been a tremendous mentor and colleague. He will be missed, but at the same time, we are thrilled to have Carrie step into a management role for our organization."
PATRICK SHELTON
Shelton has been in the textile industry for nearly a decade.
Patrick Shelton
He graduated in 2010 with a bachelor's in economics from Sewanee, The University of the South, where he also played football.
In 2011, he started working at Valdese Weavers and spent his first two years learning the manufacturing process. Shelton transitioned into a sales role in 2013 and was named vice president of sales in January 2019.
Shelton joins the ITA Board of Directors that include the following:
Kelly DiFoggio of Stein Fibers and ITA president;
Kathryn Richardson of Libeco and ITA vice president;
Mendy Kearns of Hamilton Fabric Sales and ITA treasurer;
Nathan Copeland at Highland House Furniture;
Carmen Herndon Barbee at Ballard Designs;
David Lappert at Kravet Inc.;
Dada Patil at Catania Fabrics;
Katherine Shoaf at Radiate Textiles;
and David Stunda at Barbarossa Leather.
ITA HISTORY
Formed in 1990 to advance the textile industries, ITA hosts the bi-annual ITA Showtime Market and directs the ITA Educational Foundation. The non-profit, member-driven organization is based in High Point, North Carolina. Visit
InternationalTextileAlliance.org
.
---