Artist Lynn E. Haude, 76, Noted Orinoka Mills' Designer, Dies
February 27, 2020
NEW YORK—Lynn E. Haude, a well-known decorative and upholstery fabrics designer whose work was recently on display at the Cooper-Hewitt Smithsonian Design Museum here, died Dec. 19, 2019.
She was 76.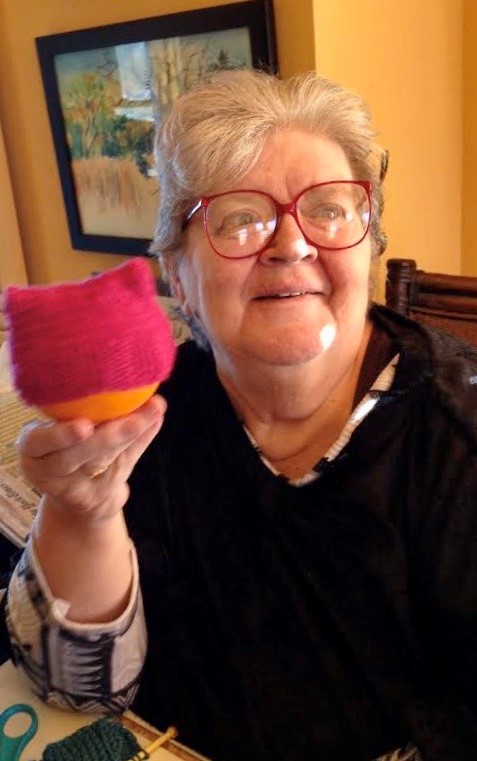 Lynn Haude was known for her creativity and kindness. 
Haude lived in New York for about 30 years at 1 Fifth Ave., an iconic building in Greenwich Village near Washington Square Park.  Lynn is survived by her three brothers, Jeff, Butch, and James; and also her sisters-in-law Janette, Martha, and Christa.
She was born June 14, 1943, and was considered to be an accomplished watercolor artist. However, Haude was most recognized for her work during her 30-year career as design director of Orinoka Mills Corp. from the 1960s to the 1990s.
"Lynne Haude was an extremely talented artist and headed up the Orinoka studio in New York City for so many years," says Scott Kravet, vice president, Kravet design, who recently purchased the Orinoka design archive from Langenthal Mills in Rural Hall, North Carolina. "I believe Haude worked for Orinoka in New York from the mid-1960s to the late-1990s when Orinoka was a premier jacquard weaving mill that catered to the high-end furniture manufacturers and Jobbers.
Here is a design by Lynn Haude. 
"I have fortunately acquired the Orinoka archives and her designs are plentiful with her hours that she took to complete each design. These hours are indicated in the corner of each design. I am very grateful to have known her during the peak of her career."
Prior to her retirement, Haude also worked at Wearbest Mils in Garfield, New Jersey (now owned by Swavelle Fabrics).  
At one time, Orinoka Mills was a thriving American curtain and upholstery mill built in the 1880s by the Solomon Brothers. Orinoka initially produced silk and curtain materials, but in 1898 the firm shifted emphasis to upholstery. Orinoka had 300 looms running in the 1930s when it was decided to move its upholstery operations to York, Pennsylvania, and other locations in the southern United States.  
The original Orinoka Mills building in Kensington, Penn. (U.S.) is today a housing development.
Orinoka Mills, formerly B. L. Solomon's Sons, was considered a major textile company located in the Kensington section of Philadelphia. It was purchased in the mid-1980s by Lantal Textiles, Inc. and in 1989, Orinoka was integrated into Langenthal Mills in Rural Hall, NC. Through the purchase, Lantal (which was later named Langenthal) acquired the extensive 10,000-piece library of Orinoka fabric documents, which includes some of the designs created by Lynn Haude.
In her later years, Haude was the historian and organizing member of the Knickerbocker branch of the National Society Daughters of the American Revolution.
"She shared her textile talent and expertise for a great many service projects," says Sarah Collins, regent of the group. Collins says Haude was also an accomplished knitter who used the knitting arts as a way to reach out to her community and those in need.
Here is a design by Lynn Haude. 
CANDACE KEY REMEMBERS HER FRIEND, LYNNE HAUDE
"Lynn Haude was the head designer at Lantal/Orinoka when we met in the late 1980s. She was legendary for her design prowess and historic knowledge of textiles, but we didn't get a chance to work together until 1996 when we were both new to Raxon Fabrics.
"Lynn started as a consultant there, brought in by Dick Wagner, but management quickly discovered the depth of her talent and need for her technical skills and market savvy. I was a new sales representative on the West Coast, and we bonded immediately. Lynn brought fresh ideas to the mill and was always subtly pushing the envelope to get an old dog to learn new tricks. She had lots of ideas and amazing patience. Before long the mill was enjoying a renaissance - the qualities and designs in high demand.
"Lynn traveled to the West Coast to work with me and my clients and meetings were a joy. She knew everyone. All the clients loved her and had great admiration for her talent. A trip with Lynn was a cause for celebration whether it was visiting my customers or a trade show in Europe. Her eye for trends and color was unerring and walking a show with her always revealed an unexplored depth of understanding of design and the textile business. She also knew where all the best restaurants were wherever we went, which was a skill not to be taken lightly.
"When she left Raxon, it seemed Lynn didn't really retire. She kept her hand in design with the mills and consultants and never stopped drawing. Creating was as natural to Lynn as breathing is to most people. Sketching, painting, making cards, knitting - it was her lifeblood. We stayed in touch over the years and got together whenever I was in New York. I marveled at her ability to get around such a busy city in her scooter, but typically she was resourceful and always found the easiest route and best time to get to the museums and shows.
"She was my personal resource for the best shows to see when in NYC. Her bright spirit, unflappable nature, and kindness were an inspiration and strength to many. The textile industry would not be quite as rich without Lynn's influence, and her gentle presence will be missed by all who had the great fortune of knowing her."
Candace Key has been active in the textile industry since 1987, working for Boris Kroll, Knoll Textiles, and Deepa Textiles as a designer, and since 1996 as a mill agent and consultant for several domestic and European mills.  
---