The Mood at Mood+Indigo, the Annual Textile Show, Optimistic
September 14, 2018
BRUSSELS -- The mood was mostly optimistic after this year's Mood+Indigo show ended this week, even with concerns about a shrinking textile market and a sluggish Turkish currency.
Burcu and Murat Erdebil of Berteks Tekstil talk with customer Said Shohich at Mood+Indigo 2018.
The annual event, held Sept. 11-13, attracted exhibitors from around the world including more than 20 companies from Turkey, where the lira has dropped about 40 percent this year, making foreign-currency loans much harder to pay off.  
Several vendors said the Mood (Meet Only Original Designs) show remains important for textile manufacturers wanting to reach the European market.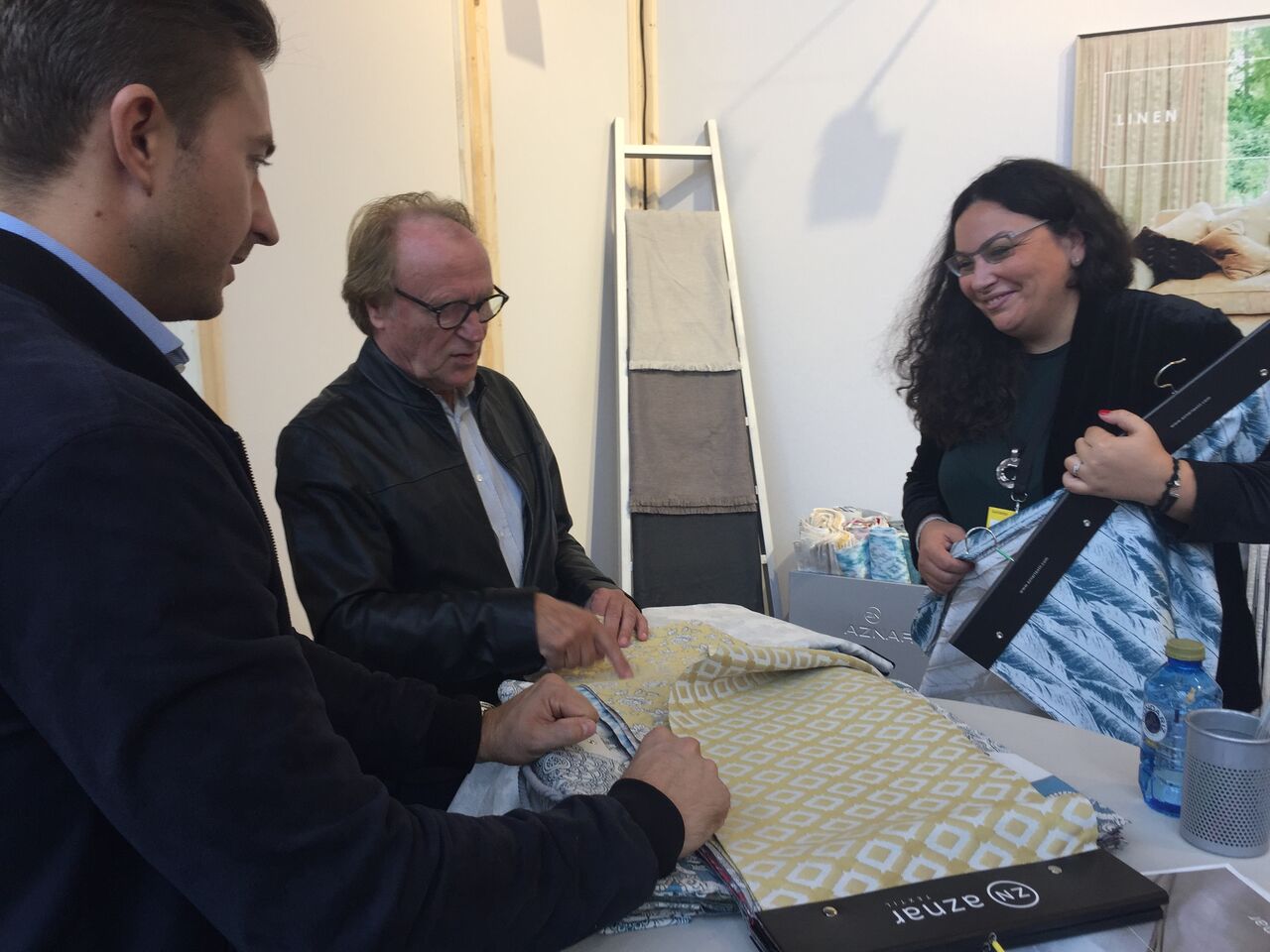 (L to R) Lukas Vollmer of Stofferia, Helmut Simon and Cristina Sanjuan of Aznar Textile discuss business during Mood+Indigo 2018.
The event's Blue Drop Awards were given to showcase the best offerings. This year's winners included the following.
Italian company Velvetex won the best upholstery award. The judges said, "There are multiple reasons to select Velvetex as a winner. First, their use of high-density weaving, a new technique leading to very dense velvets. But what they do with it is at least as impressive. They combine artificial raffia with (recycled) wool, sparkling details, and 'sashiko' - Japanese embroidery for functional stitching - on velvet, creating a discrete 3D effect. On top of all that, it was the color setting in mustard yellow and white that gave it a finishing touch."
Indian company GM Fabrics won for best window covering, many in a "folksy" theme. Judges said, "The combination of the colors, the patterns, and the embroidery is at the same time trendy, classy, and new."
(
L to R) Lieven Buyse, Joanne Wild, Burnadette Buyse, and Walter Van Lier discuss options during Mood+Indigo 2018.
Belgium company Algemene Two won for most promising collection: "The colors, textures and high-end feeling of the collection aims at a niche market that is willing to pay for the extreme luxury of alpaca and mohair."
Megan Brown of the United Kingdom won the Launch Pad award for her playful interiors for children.
(L to R) Claudia Sein of Italrom Sofa, Senay Kilic and Mevlut Baydar of Aydin during Mood+Indigo 2018.
---