Tana Bana Offers Heimtextil Extras: 2020 Trend Report and New Printing Technique
Heimtextil Held Jan. 7-10
December 20, 2019
MORRISTOWN, N.J. -- Tana Bana, the design company for residential, wallcoverings, and other markets will offer Heimtextil prospects its 2020 trend report and introduce a new printing technique for woven jacquards.
"As customers' taste-level increases," Principal Shreenie Vasan says. "It is important for us to be extra specific about what we want to offer."
A part of Tana Bana's trend report for Heimtextil. 
For the trend report, officials say they've done an extensive study of customers at different price points, varying product categories as well as visiting several shows, including Maison & Objet, the home décor fair connecting the international design community.
"We have put down this information in a cohesive manner," Vasan says. "We are hoping this information helps our customers to focus on product development and save lots of time and effort."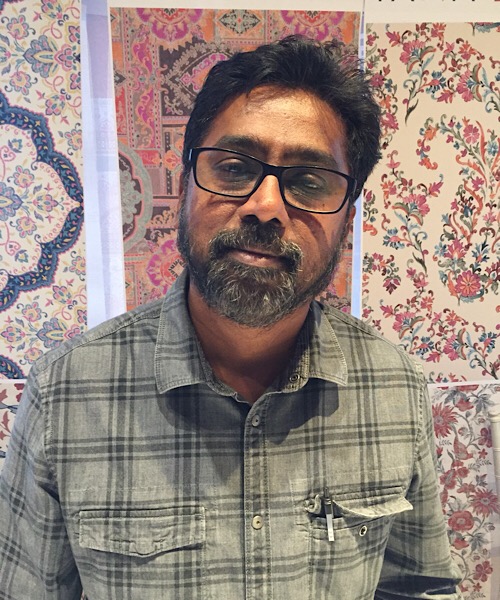 Principal Shreenie Vasan says he wants to offer specific information for customers at Heimtextil 2020.
Customers will get a free physical copy, or email, of the trend report at Heimtextil [Jan. 7-10, 2020].
Here are a few of the 2020 color trends, according to Tana Bana.
Bisque Pink (orange, pink)
Warm neutral, camel sands
Electric blues
Soft jade plus blush
Lavender lush
Marigold (earthy yellow)
Techno mint
Here are a few of the 2020 pattern trends, according to Tana Bana.
Fringes
Ruffles
Quilted looks
Shiny sleek
Lace
Techno looks
Iridescent textures
1970s retro looks
Day of the Dead
Cute fruits
Cosmos/ planets/space
NEW TECHNIQUE
Vasan says there needed to be a new way of producing jacquards due to their rising cost.
"We see a big need for prints that look like woven jacquards," he says. "Hence we created a new line of patterns based out of true fabric simulation with the help of Jacquard software (
Pointcarre.com
).
"The result is you will get the look of jacquard fabric at the cost of the print."
Vasan co-founded the company with Susan Ritchie. They named it Tana Bana because it means warp and weft in the Hindi Indian language. They have 12 employees in India, which help in producing about 150 patterns per month.
Tana Bana will be in Hall 3.0, stand B-58, at Heimtextil.  
---