Rose Brand, U.S. Largest Stage-Curtain Supplier, Promotes Social Distancing With Its Campaign: Distance is Resistance
August 19, 2020
SECAUCUS, N.J. -- Rose Brand, the 99-year-old, family-owned stage curtain supplier, including most Broadway theaters, now promotes consumer products emblazoned with its pandemic awareness campaign: Join The Resistance, Keep Your Distance.
The motto is now on items such as masks, T-shirts, and banners to help spread the word about social distancing, while contributing to the GlobalGiving's Coronavirus Relief Fund. It supports frontline responders and people who are most vulnerable to the pandemic.
Check out the Distance is Resistance (DIR) Campaign and products at:
DistanceIsResistance.com
.
THE DIR CAMPAIGN BEGINS
Rose Brand has 400 employees and two locations – Los Angeles, California, and New Jersey. It's the largest U.S. firm supplying stage curtains, fabrics, printed backdrops, production hardware, and supplies to the entertainment and event industries, officials say. The company has equipped concerts of the famous, such as Elton John and Lady Gaga, and the less famous, such as high school theaters.
In March, President Josh Jacobstein wanted to help lift employee morale as COVID-19 spread and employees were furloughed. The marketing department was tasked with developing a concept.
Marketing Director Louis Peter explains it had certain requirements: A concept that they could digitally print onto a roll of 140-foot-long fabric, placed in the company parking lot, photographed, and then sent to employees.
Rose Brand employees roll out the new campaign in the company parking lot. 
"I woke up the next morning with a brainstorm and developed the slogan: Join The Resistance, Keep Your Distance," Peter writes in an email. "I married the slogan to a patriotic image of the American flag, which was subsequently modified to include Lady Liberty as well."
The concept became bigger. Officials wanted to encourage people to spread the word about social distancing (a new concept when they initially developed the campaign in March) as well as share the product sales with a COVID-related charity. The company gives 25% of the DIR revenue to charity.
The campaign received nationwide attention when Scripps Media picked up the story and its TV affiliates aired the segment.
See it here:
https://www.pix11.com/news/national/coronavirus/theatrical-fabric-supplier-finds-new-mission-in-support-of-social-distancing
ROSE BRAND HISTORY
Rose Brand was created 99 years ago. Peter explains the company initially sold cleaning rags, including those that were used to clean The New York Times printing presses.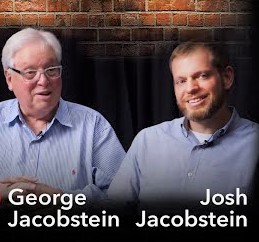 CEO George Jacobstein expanded the company in 1975, Peter explains, when it started selling theatrical fabrics and then custom-sewing services for curtains and backdrops. Last year, George's son, Josh Jacobstein, was appointed president and leads daily operations. Jacobstein senior remains very involved.
"Eventually, we added production supplies to our inventory; a West Coast office and warehouse; an in-house digital printing capacity for large, seamless backdrops; a curtain track manufacturing division, and other technical services," Peter writes.
Although there's a reduced staff, Rose Brand still does some business during the pandemic.
"We are currently quite busy, albeit with a vastly reduced staff, in our traditional areas of custom drapery manufacturing and technical services, such as curtain-track manufacturing and installation," Peter writes in late-August. "We're fortunate in that we stock much of our fabrics and hardware in-house, so we have had little, if any, supply chain issues on our traditional businesses. We have tons of velour on hand, which we have used to a great extent to fulfill orders related mostly to venue renovations."
Peter adds: "We are hopeful and fight every day to put ourselves in a position to rehire employees as business returns."
ROSE BRAND TIMELINE
1921
- Rose Brand opens selling rags in Manhattan.
1970s
- Theatrical fabrics added and custom sewing.
1986
- First product catalog published.
1995
- Rose Brand West Facility opens in Los Angeles.
2004
- Rose Brand West moves to larger facility.
2007
- East Coast operations move to Secaucus, New Jersey; Facility space doubles.
2015
– New Jersey facility expanded by 42,000 square feet.
2015
- George Jacobstein celebrates 40 years at Rose Brand.
2015
- Rose Brand acquires Swag Decor, growing its Florida market for event and decor services.
2016
- Rose Brand celebrates 95 years of business.
2017
- Rose Brand West again outgrows its space and moves to larger facility; Rose Brand creates Printhead Studio Digital Printing.
2018
- Rose Brand buys Automatic Devices Company.  
---