Many Think Ken Gold is The Converter's Converter, He Travels the Globe, Shops Heimtextil Hard
March 15, 2018
FARMINGDALE, NY—After 43 years at the helm of
Doral Textiles, a small converter based in the USA, Ken Gold has established his reputation as the converter's converter. This opinion is shared by more than a few agents and peers in the decorative fabric industry. Says one veteran decorative fabric agent: "He is a very energetic guy, a lot of fun with plenty to bring to the conversation." "He spends time with a mill if he thinks there is potential. I have worked with him for hours as he recolors a collection for his customers. My suppliers are always delighted to see him." "I have noted that suppliers in general think highly of him. He is thoughtful and has his finger on the pulse of the market. He is knowledgeable and one always learns from him; he makes (and keeps) appointments; he does his homework and is accessible.  He treats mills and agents with respect." Gold is sought after by many mills for his opinions on colorations which he happily changes to suit his market in the US and Canada. "This year, the colors of decorative fabrics at Heimtextil in Halls three and four featured five to six shades of blue and moved away from the 'mauvey' ranges in 2017," he comments.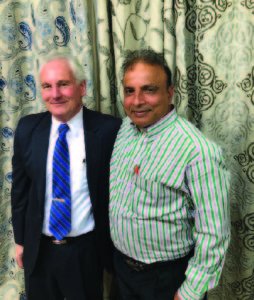 Ken Gold still breaking new ground with longtime suppliers like Kishan International of Bangalore (owner D.H. Narayansha on right)
"This is still a jacquard woven market and prints are not surging back in my opinion," he feels. "Outdoor fabrics are still making inroads and I was lucky enough to pick up a very well designed French outdoor fabric line at Heimtextil this year on an exclusive basis in the States. "The German mills excel in better fabrics and are still there developing fabric structures almost impossible for the Chinese to copy, he observed. He gave high marks out to the textile products and service offered by Neutex, Hofmann, Apelt and Gerster. "Neutex can deliver a piece very quickly," he comments. "Some Germans import commodity products to offer with the special goods they still weave. In spite of the Euro increasing against the dollar, the Germans are still competitive," he points out. In other areas, he gives credit to the Chinese makers of polyester velvet. However, he feels you can get better quality and prices from Taiwan suppliers instead of China. "Velvet is making a big comeback and several Chinese mills are making good quality velvet." Gold complimented Heimtextil on its ability to move people into and out of the Fair quickly. "Hall three now has outside shopping malls, restaurants and the subways are so efficient," he says. Gold puts in long days at Heimtextil, from 9:30 to 6 at night and then on to dinners which end at 10-11 pm. He does this for three straight days and feels he could use even more time at this important Fair.
---