Kravet Acquires Third Largest Design Archive in its 100 Year History; Brothers Scott, Cary Buy Rare 3rd - 18th C. Designs
November 17, 2017
Bethpage, New York
— Fresh from their European travels the Kravet brothers proudly announced one of the biggest design coups in the industry with their successful purchase of an extensive design archive that will become the basis for an extensive collection of fabrics and finished textiles for all brands including CuratedKravet, its recently established off the shelf custom and readymade finished product for the designer.
(see The New Kravet Archive Purchase)
Kravet is trying to capitalize on the digital world with CuratedKravet as it experiments with new channels of distribution to the interior designer. "Over 80 percent of the product with CuratedKravet is exclusive to Kravet," says Cary Kravet, President. "Our textile world is tactile but the iPad
®
and iPhone
®
have changed how everything is purchased and we have to follow Amazon's lead with delivery of finished product in two days if possible," Cary says. The other large archives purchased by Kravet were part of the purchase of the GP&J Baker in 2001 and Brunschwig & Fils in 2011. A smaller acquisition was made with the purchase of Lee Jofa in 1995. These also represented the most significant developments at Kravet in recent years according to Cary who engineered them. Brunschwig & Fils alone cost the company $6.5 million to purchase, records show. Kravet is on a short list of companies over 100 years old in the same family hands and an even shorter list in terms of overall sales, either number one or two in total sales compared to JAB of Germany.
After 100 Years, Kravet's all: Daniel, Cary, Lisa, Scott, Ellen, Sara and Sander and Utta and Larry in front row
Cary is not closing the book on potential acquisitions either. "We look for complementary companies which can add to our world; that means good synergy and distribution, maybe in a category we don't currently have. It's really two parts: back office efficiencies, the economies of scale and opportunities for differentiating our sales." "Showrooms will continue to be an important component for sales; it's a matter of using showrooms for accessibility. That's the key for getting exposure for showrooms," Cary says. "New showrooms are coming in Los Angeles, recently in Philadelphia and Boston. (See separate story on new Philly showroom this issue) Phoenix opened last year and two in New York City just reopened," he says. "It's important to be wherever the customer wants to be whether it's our website, or brick and mortar locations. We have to be quick with sampling, on the road presence and online, wherever the customer needs us to be—we have to be there," Cary emphasizes. He acknowledges the fact that online presence has expanded the demand for Kravet memo samples to the designer. "This business use to be dominated by residential and cut order sales. Now, we have hospitality, healthcare, piecegoods, export and retailing. As a result, we must keep improving our web presence. Designers look at the web before they go to the showroom. Social media has elevated the young designer's interest in home in what used to be only the fashion side of the business," Scott points out. That is why Kravet is so heavily involved in reaching out to young designers who may very well be the inspiration for future brands of Kravet fabrics. Kravet brands of Lee Jofa, Brunschwig & Fils, GP&J Baker, Groundworks and Curated Kravet eat up new designs which are developed by the in house design department making use of the extensive archives in Bethpage. Kravet generates many designer collections each year and most recently, the Oscar de la Renta collection took top awards as the best new collection of 2017 from 'World of Interiors' magazine.
Brothers Cary and Scott Kravet show off design cut into Mulberry bark and held together with human hair
"We are editing our sku's more closely than ever with all of our brands," Scott Kravet, Chief Creative Director says, "but we're also giving a wider array of offerings. We may be editing very carefully but we're showing more product than ever," he explains. "Fabrics are really in our DNA; we've been in fabric so long that we know very well our market for fabrics," Cary comments. "Other products have lots of potential for growth because we're starting from such a small base." Other significant developments for Kravet are related to its entry into the carpet, bedding, lighting and decorative hardware business lines in 2005. Another area Cary is eyeing is the healthcare market for Contract fabrics. Robert Duban heads up Contract sales for Kravet and he is bringing in record sales for the company after five years with the company. "Overall, there is different kinds of competition, just as its always been. There's retail competition, online competition, niche competition, foreign competition and we have to address all those," Cary figures. "It's a much more global market. Since there is an oversupply of product in the market, strategic alliances are critical. We have tom select those suppliers that mesh well with how we work; our values…our needs and the supplier's capabilities. There are so many alternatives but we just have to pick the right ones," he says. "We are keeping the same number of vendors but each one is more important than ever before to Kravet." Kravet sources fabric mainly from the USA; then India, Italy, China, Belgium and England. "India is more creative," says Scott. "The Indian mills bought looms from Italy. The Italians are creative yarn 'junkies' with good design archives. The mills of Naples made goods for the Bourbon Kings, particularly damasks and brocatelle's. The Northern Italian mills are known for their tapestries." Scott points out there is also a slew of new start up editeurs in California. ____________________
Kravet at 100 Years Young is All in the Family!
Samuel Kravet
(Founder-Kravet)
Kravet is rolling along business as usual with the fifth family generation in place, namely Sander, Cary's son who has been involved in finance and operations for the past three years since 2014; Daniel, Scott's son who just joined the company as a management trainee this year after a stint at Radiate, a two-year-old upholstery converting operation started by ex Kravet and Richloom sales manager David Teitelbaum; Sara, Sander's sister, has worked in design and the furniture division at the Boston Kravet showroom since 2012. Kravet will start its 100th year celebration with Founders Day in February. It is focusing its ad campaign on the people and makers of Kravet with documentary style photography that will be seen on a new website dedicated to 100 years of 'Inspired Design.' A commemorative book for designers is also planned. Kravet opened for business February 5, 1918 with one employee, Cary and Scott's great grandfather Samuel Kravet. He was a Russian émigré to Canada and then America. He was a tailor by trade and set up a shop on the lower eastside of New York City.  First, it was custom fitted suits which required elastic and wool fabric. The wool fabric ultimately became upholstery and the elastic supplier also made trim. The home furnishings business started on Norfolk Street in 1918 and was incorporated in 1936 as S. Kravet and Sons with Sam's four sons. Today, Kravet is 1,000 associates strong with operating companies  in the USA, the UK, Canada, Mexico and France with a European distribution warehouse in Poole, England. Larry Kravet, Cary and Scott's dad was the next generation and the only child interested in the business after he came back from World War II in 1945, attended college and joined fulltime in 1949. "They handed Larry a broom and told him to sweep up," Cary laughs. Larry was an outside sales person and then product guru who became President. In 1961, he moved Kravet to an uptown showroom in New York. For 20 years, the Kravet company was headquartered in Woodbury, NY and then to Bethpage, the current home of the flourishing business. In 1988, a warehouse was opened in South Carolina. In the 50's and 60's, Kravet built its outside rep force. Ultimately, these reps became dedicated to Kravet alone. "UPS allowed our products to be shipped across the USA and helped Kravet go nationwide from an Eastern Regional business.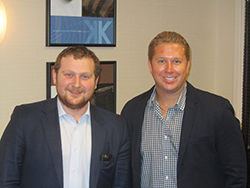 New kids on the Kravet block: Sander, Cary's son and Daniel, Scott's son
Cary and Scott joined in 1983 and 1984 respectively while Cary's wife Lisa joined Kravet in 1986 along with Jerry Schwartz, Chief Operating Officer. Scott and Cary's sister Ellen joined the Kravet sales department in 1987.
---