Crestmont Fabrics Family Celebrates Professional and Personal Milestones: President Michael Harris Weds
September 9, 2020
HAUPPAUGE, N.Y. – Crestmont Fabrics CEO Judi Harris could celebrate two major events with her son, Michael Harris, who married Michelle Ivanova on Aug. 8.
Crestmont Fabrics President Michael Harris married Michelle Ivanova -- with their dog, Mishka -- on Aug. 8.  Courtesy Judi Harris.
The couple held the wedding at the Gould-Guggenheim Estate (Sands Point Preserve), started by Howard Gould and completed by Daniel Guggenheim in 1912. The event had originally been planned to have 200 guests, but it had to be severely modified because of coronavirus restrictions.
"The virus and restrictions didn't stop their plans," Harris says. "It just caused some serious modifications."
On the professional front,
Crestmont, which has specialized
in residential textiles for 36 years, has received national certification as a Women's Business Enterprise, which "affords us the ability to conduct business with other diverse corporations who are interested in promoting business with women-owned businesses as well as within minority communities," Harris says.
WEDDING BELLS



Mishka helped during the wedding as the ring bearer. Courtesy Judi Harris.
Mishka, the couple's Portuguese Water Dog, helped during the wedding as the ring bearer.
"Michelle's dress was an extraordinary, original design by the Russian designer Alex Tieh and Michael, of course, was dressed by Louis Vuitton -- his trademark," Harris says. "A great time was had by all.
"I think primarily because everyone was thrilled to finally leave their homes and attend such a beautiful and happy celebration."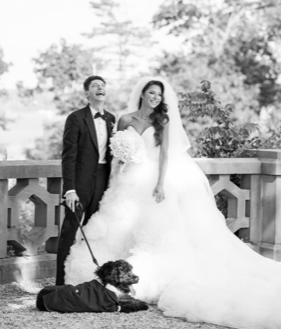 Crestmont Fabrics President Michael Harris and Michelle Ivanova -- with their dog, Mishka. Courtesy Judi Harris.

BUSINESS DURING THE PANDEMIC
Crestmont Fabrics remains open during the coronavirus lockdown.
"During the pandemic, we quickly switched gears and began importing and selling surgical masks and N95 Personal Protective Equipment (PPE)," Harris says. "Although fabric sales were all but none, Crestmont remained fully operational thanks to Michael's IT capabilities to enable us to work remotely."
Harris says the new certification could improve sales.
"I applied for this certification to try to help improve our relationships and sales," she says. "Hopefully, the coming years will bring greater prosperity for all of us."
The new certification could mean tax benefits because the federal government allows tax incentives to those who support the advancement of minority communities. The certification process is designed to confirm the business is at least 51% owned, operated, and controlled by a woman or women.
By including women-owned businesses among their suppliers, officials say corporations and government agencies demonstrate their commitment to fostering diversity.
CRESTMONT HISTORY
Crestmont Fabrics was founded in 1984 by Paul Harris and Judi Culmone Harris and has been a global source of fabrics and design for 36 years. Harris says the company looks forward to partnering with corporations to promote diversification and unity. For more, click at
www.Crestmontfabrics.com
.
ABOUT THE WBENC
The Women's Business Enterprise National Council (WBENC) is the largest certifier of women-owned businesses in the U.S. and a leading advocate for women-business owners. Founded in 1997, WBENC is the nation's leader in women's business development and the leading third-party certifier of businesses owned and operated by women.
More than 1,000 corporations representing America's most prestigious brands as well as many states, cities, and other entities accept WBENC Certification. For more, click on
www.wbenc.org
.  
---