Tariff Trend: Chinese Kentex Mills Relied Solely on U.S. Upholstery, But Now Adds Domestic Upscale Curtains
Intertextile Shanghai Exhibitors Say Trade War's Effects Still Unknown
September 3, 2019
SHANGHAI – Doris Deng, who has been selling upholstery fabric the last decade in the U.S., has pivoted this year into the Chinese domestic market with upscale curtains.
Last week at Intertextile Shanghai Home Textiles [Aug. 28-31], most exhibitors seemed to be discussing the U.S.-China trade war, even if like Deng, they would not comment about any decline in American exports because of tariffs.
Entrance to Intertextile Shanghai Home Textiles 2019.
The American market "is still good for us … because we have nice big accounts [that] have a facility in Vietnam," said Deng, principal of Kentex Mills in Hangzhou that employs 300 people. 
She explains her American furniture clients have had the Vietnamese facilities because it's less expensive to manufacture. 
"Now one more benefit is no tariff [on] goods from Vietnam," Deng says. "We're working together with our customers to offset the influence of the tariff."
Deng entered the Chinese domestic curtain market two years ago, and this year, launched a new brand called La Belle Vie and opened a new Shanghai showroom for designers and distributors. She expects to have 1,000 distributors by the end of the year.
Doris Deng opened her new Shanghai showroom for the La Belle Vie brand.
She added the La Belle Vie curtains are targeted at upscale designers.
The new curtains come in many fabrics and in 280-inch width. The price range was not available.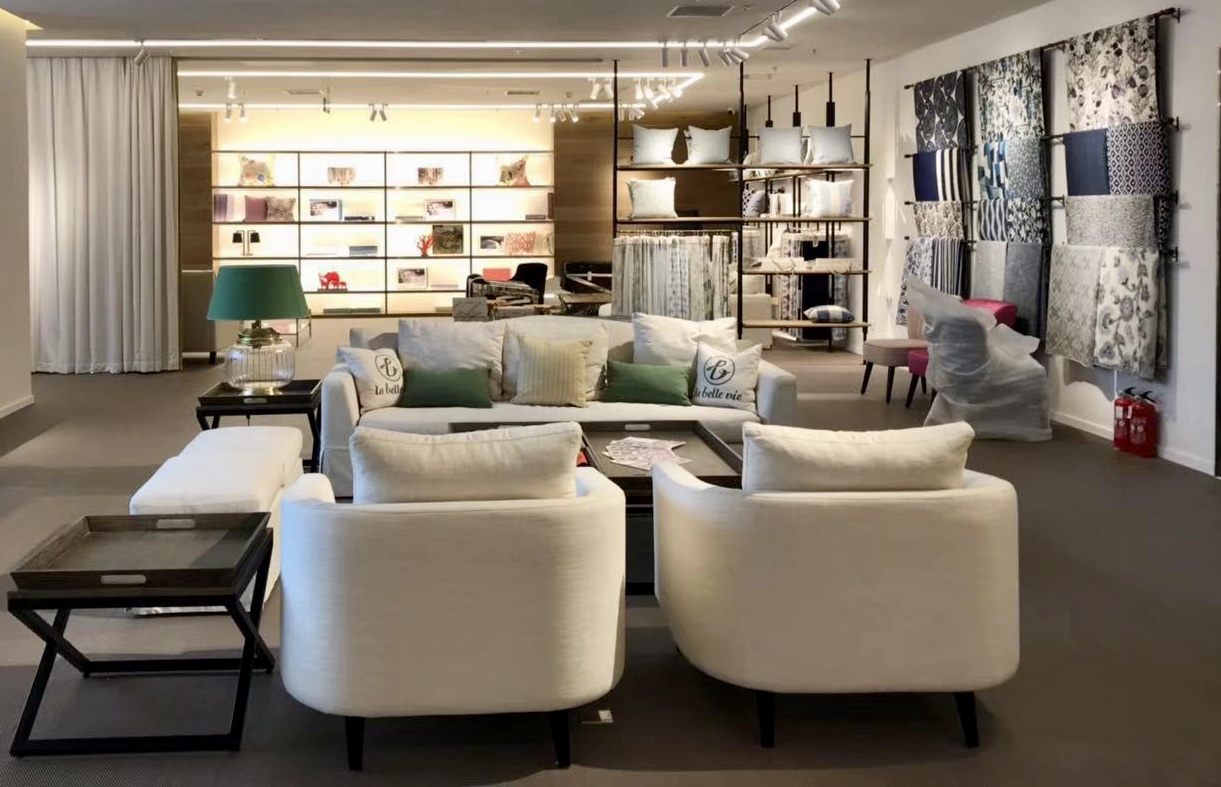 The new Shanghai showroom for the La Belle Vie brand. 
Deng wants the La Belle Vie brand to include more than curtains, but also such items as residential furniture and bedding so that it becomes a "lifestyle brand." As a result, she imports some products for the new brand, such as furniture from Germany and shears from Japan.
FROM LAW TO CURTAINS
Deng grew up in Shanghai and studied to become a lawyer. But she decided to start a contract curtain business in 1992, after discovering she would be paid only 300 yuan per year in law, and after a real estate developer mentioned there were no upscale curtains available.
The business grew and she bought a Hangzhou mill in 2001.
China first opened parts of its economy to foreign investment and domestic entrepreneurs in the late 1970s and early 1980s. Deng has seen the changes to Shanghai as a result.
Wang Tiankai, left, president of China National Textile and Apparel Coucil,speaks with Doris Deng, right, during Intertextile Shanghai 2019. 
---