Showtime 2020 Buyers Looking to Offset Chinese Backlog: U.S Upholstery Sales Up Overall
November 23, 2020
HIGH POINT, N.C. – Many exhibitors say this year's Showtime Market had fewer customers in attendance – down 50% in some cases – but still saw their upholstery sales increase, up in some cases by 20% over last year.
Large companies, such as Kravet, report a full customer schedule during Showtime (Nov. 15-18), while smaller companies had cancellations of up to 50%.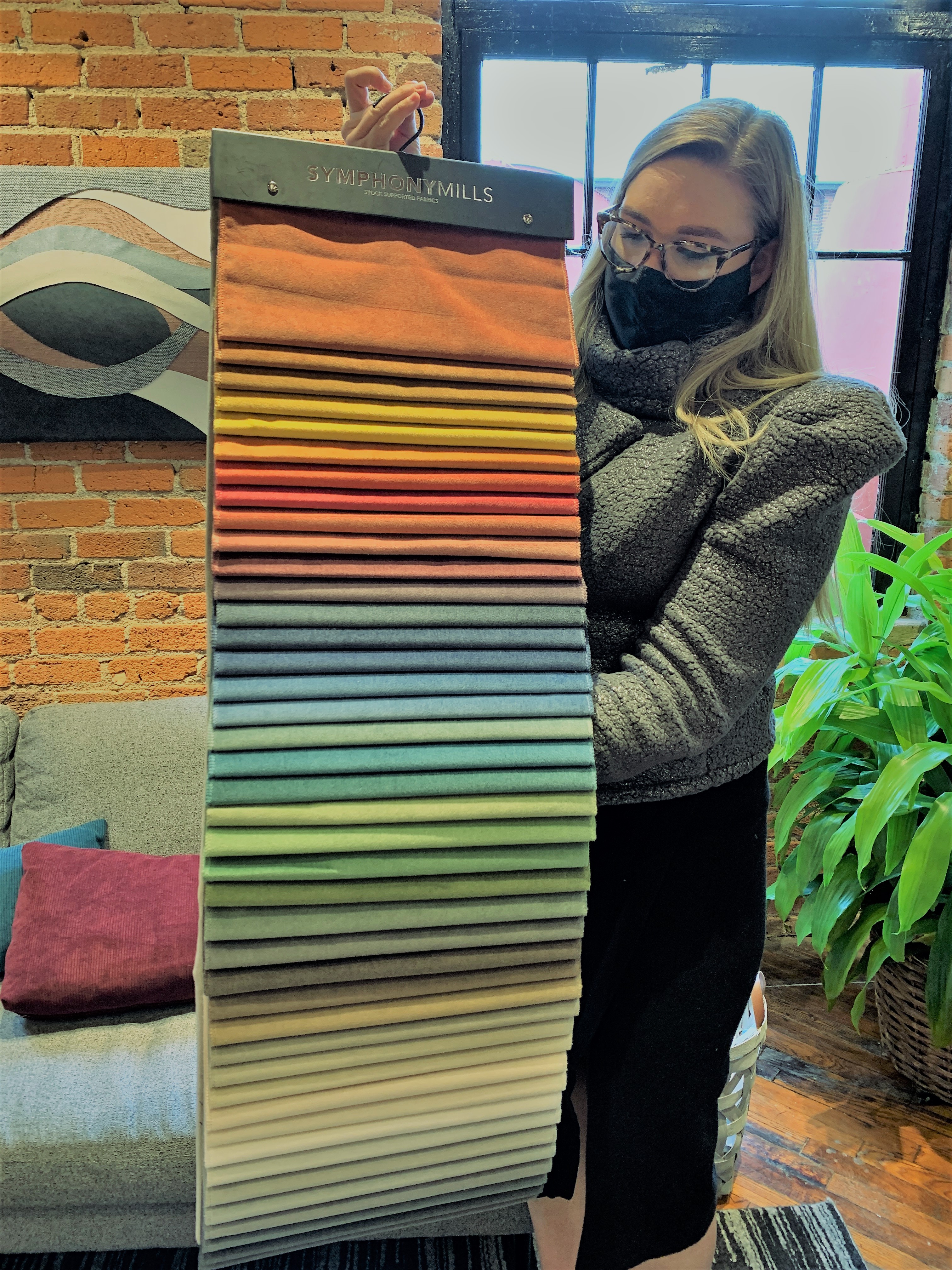 Jessica Norby of Symphony Mills shows off a bestseller collection during Showtime.
Even so, furniture and home furnishings store sales continue to rise: a 5% increase in October 2020 to $10.4 billion compared to same month last year, according to advance estimates from the U.S. Department of Commerce.
A backlog of fabric shipments from China to the U.S. caused at least two buyers to attend Showtime. They were looking for material to complete their project. The buyers, who did not want to be identified, say if they were not under a deadline, they would not have attended because of the upcoming holidays.
"We did have buyers looking to shop our line for the first time this year because of the backlog from Asia but we had to turn them away," STI Fabrics CMO Anderson Gibbons says. "Freight and container premiums are a huge thorn in most furniture manufacturers side right now. STI Fabrics is a reliable resource to our customers because of our domestic supply chain. From yarn to fabric, 98% is made in the USA."
STI is a manufacturer and distributor with locations in Kings Mountain, North Carolina, and Verona, Mississippi, and others.
David Lappert, vice president of sales at Kravet, says he had a full schedule the first day.
"This is one recession where the home is winning out," Lappert says. "They're spending money on their homes. We haven't seen a downturn in business at all. We did for a couple of months, but it has come back stronger than it dropped."
A dozen companies at Showtime reported slow traffic during the conference, including Termolst USA, a division of Belgium parent company Global Textile Alliance. Termolst began operations in 2016.
Termolst Sales Manager Chuck Marchant says the company's U.S. design team tweaks similar products sold in Europe and Asia for the American market. It generally comes out with about 30 patterns per season, but because of the pandemic, they introduced about a dozen.
"Our appointments are down considerably," Marchant says. "We're launching a digital catalog to show the new product, but we're also doing a lot more [online] meetings where we're showing fabric.
"Performance fabrics are a big buzzword, so that's another one of our top priorities… Vivalife is our brand name for the performance collection."
GETTING TO CUSTOMERS
Termolst's mill is in Reidsville, North Carolina.
"We were able to keep our mill running," Marchant says. "We have plenty of product orders to ship. … We're happy to have manufacturing here in the states."
Symphony Mills, also a division of parent company Global Textile Alliance, does about 80% of its sales internationally, in about 150 countries. It sources from Chinese mills.
"Even though we do business worldwide, it's all the same product, all the same business strategy model, so the website really helped being able to get in front of customers," Sales Director Jessica Norby says. "We're probably seeing about 50% fewer of the people that we normally do [at Showtime]."
Many companies are relying on online meetings.
"The biggest difficulty is getting in front of the customer," Kravet's Lappert says. "Online is obviously very strong, but even brick and mortar is doing really well. But it's just a weird time."
Kravet introduced two collections at Showtime by designers such as Barbara Barry, which had watercolor and pastel highlights.
"We're pretty pleased," Lappert says. "[But] it's not like in past [Showtimes]."
NEW WAVE OF COVID-19 CASES
The wave of new Covid-19 infections across the U.S. could have affected Showtime attendance. There were new lockdowns and restrictions the previous week across the U.S., when more than a million new cases were reported.
Tana Bana Principal Shreenie Vasan says it's even more important to be seen as a stable company during the pandemic.
"Stability is very much required during troubling times," Vasan says. "That's why I'm here [at Showtime]. I want to make sure my customers know there's certainty as far as my products."
Ramtex has its own office a few blocks from the Textile Tower. Ray McKinnon, director of merchandising, says the company had customers during Showtime, but also made appointments in a different way.
Ray McKinnon sits inside the Ramtex showroom during Showtime.
"They're looking in a different way," she says. "Either virtually or just having samples direct to their factory, instead of them bringing a big group of people to Showtime to avoid the crowds."
For the first time, Ramtex officials plan on shooting a video of their showroom, so customers can see the fabrics on the furniture.
"And then we will do a tour of each ladder, and the collections, the color story, and with an explanation of the inspiration behind it," McKinnon says. "In some ways, I think it's a good thing, because it made us think, OK, we need to start doing new ways of communicating with everyone, when everyone can't get together."  
---