Rockland Industries Continues Business After Restructure, But Seeks New Financing, Perhaps Outright Sale
Company offers new PPE-fabric-finishing service
August 21, 2020
BALTIMORE -- Rockland Industries, the manufacturer of the Roc-lon brand, announces it is still operating and open for business.
Last year, officials say the company was forced to reduce its operations by its bank.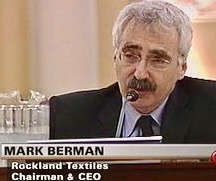 "We were able to repay the bank without resorting to a fire-sale liquidation or filing bankruptcy," CEO Mark Berman says in a statement on Aug. 19. "To paraphrase [American author] Mark Twain: The reports of our death have been greatly exaggerated."
The company statement indicates it continues to use its Bamberg, South Carolina, plant at a reduced rate. Read previous F&FI
story here.
Rockland recently launched a new 100%-blackout, roller-shade line as well as certified finishes for Personal Protective Equipment (PPE) fabrics, which it offers on a commission-finishing basis.
Still, officials must secure new financing and have engaged an investment banking firm, TM Capital, to that end. Read previous F&FI
story here.
"We are open to a wide variety of possible transactions, including an outright sale," Berman states. "Our goals are to pay our creditors, most of whom have been very supportive during this trying time, and to rehire the portion of our Bamberg, South Carolina, workforce that we were forced to lay off.
"In the meantime, Rockland will continue coating and finishing goods and serving customers from its inventory on a limited basis."
ROCKLAND HISTORY
Rockland, which traces its roots to 1832, is a family-owned-textile manufacturer headquartered in Baltimore, Maryland, with a manufacturing plant in Bamberg, South Carolina. Rockland developed coated-blackout window-covering fabrics in the mid-1960s.
Officials say it was the first manufacturer of these products in the world and the last still operating in the USA. In addition to servicing the hospitality, contract, and residential-window-covering trades in the U.S., Rockland has customers in over 90 countries.
Rockland is also the leading U.S. supplier of muslin fabrics used in home-sewing by quilters and crafters. Rockland sells all its products under the Roc-lon brand.

For the latest F&FI news on social media, use
#FFINews
to find articles.  
---