Robert Allen Wants Only Sales From Warehouse Stock
RADG is "ghost" of the company that once was the second largest U.S. supplier of decorative fabrics and furniture
April 10, 2020
MIAMI BEACH, Fla.—It will be a year next month that real estate developer Brant Enderle bought Robert Allen Duralee Group (RADG) out of bankruptcy for $19 million.
Today, he's reportedly selling its inventory at full wholesale and telling customers he's cancelling old orders and prefers to sell only what it has in stock, according to a recent letter sent to active accounts.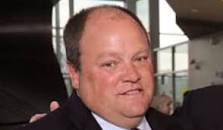 Brant Enderle
"As Robert Allen adapts to remain a strong company during the current incredibly challenging and unprecedented times, procedures and policies are being reviewed and changed to what is seen best for both Robert Allen and its customers," the letter states. "Due to the uncertainty in the economy and the global supply chain being interrupted, we have made the difficult decision to no longer process orders for stock not currently available in our Gaffney [South Carolina] warehouse.
"Unfortunately, any pending back-orders cannot be fulfilled at this time and will be canceled. And no new orders falling to a back order are to be processed in AS400."
Of course, COVID-19 is not helping RADG sales or anyone else's.
Industry observers say Enderle bought the company a year ago only to liquidate it and has no long-term plans for RADG.
In the past few weeks, he has closed all major showrooms, retreated from a New York headquarters to his base in Knoxville, Tennessee, collected on high-value receivables owed to the firm, and is now reportedly debt-free on the purchase of RADG.
Also, customer service is in Bulgaria, F&FI has learned.
"He has little or no management; no sales force, no showrooms; no studio, no designers, and no design director," one source observed. "At the end of the day, he has taken a distressed asset and do what he knows how to do—squeeze the profit out of it."
When the smoke clears, Enderle will walk away with several million dollars and the company will be a ghost of what it once was--if it survives at all, observers say.
The letter continues, "If a customer is inquiring to order at least one piece (50.0 yards) and is willing to pay a deposit, then these inquiries can be escalated to management to review if possible for Robert Allen to process the order and the terms for the order.
"Don't forget about our research team as they are always here to help us find alternatives, if possible, for patterns with stock available in Gaffney. Also, we have revised our website to only show patterns that have stock in Gaffney making our pattern search a great resource to independently find an alternative.
"Robert Allen currently has 21,756 SKUs in stock with at least 15 or more yards in Gaffney totaling 2,288.227 yards," the letter states. "Orders being processed with stock available in Gaffney are being handled 'business as usual' and dispatching within 24/48 hours of order placement."
---