WeaveUp's Flint Davis Produces Digitally Printed Hospitality Fabric Samples In Three Days, Changing the Way Textile Print Business Is Done
November 17, 2017
DURHAM, NC—
The printed textile industry worldwide is $200-$300 billion worldwide, according to Flint Davis, President of WeaveUp, a digital printing specialist. He expects digital printing, still in its infancy with only three to four percent of the world printed textile market, to take over 50 percent of the printed textiles market in years to come. "Today's digital printers are capable of producing 200 feet of fabric a minute and the crossover versus using rotary screen is now in the thousands of yards from an economic standpoint. And, with digital printing, there are no screens to make and there is no finished inventory; you print only what you need." Davis says there are digital printers today in Turkey, Asia and South America that can print faster than rotary screen printers.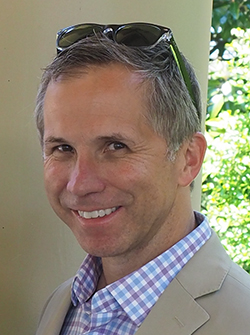 Flint Davis
Better economy and speed to market is starting to drive the print business. Eve rotary screen printers are getting into the g=digital printing business and if the design hits big, they can put it on the rotary screen printer for really big volume runs. "It takes six to eight weeks to produce a rotary screen print sample which is time consuming and expensive," Davis says. It costs about $1,500-$3,000 to make a rotary printed sample. With digital printing, we can now produce samples in two to three days for a few dollars. We even inkjet print the header right on the fabric including the job number, customer design, underlying fabric type and project information." WeaveUp developed the proprietary software to do this and the technology to print goes through the internet to the customer. "Digitally printed fabric today will now perform and pass all the commercial tests," he explains. "The customer can pick their design from our flexible library. We pay royalties to the artist and take a percentage of the eventual sales which our clients self report to us." He says there is no charge for the initial sample to the client. "Today, hotel floor has different fabrics; within each floor there are many fabrics used," Davis explains. "Prints are on trend with hotels right now and the interior architects are overwhelmed. We make it easy for them to have a diverse range of prints very quickly for their clients. Companies can produce the designs in-house with the code we give them to run their digital printers. We have control over the color, scale and size of repeat. We can also produce the sample and production for the customer; either way works." WeaveUp works through the client who is the supplier to the hotel designer. "We have no intention of going direct to the designer," Davis explains. In 2015, Davis met the Dobins (the owners of Valley Forge Fabrics). Davis became a contractor for Valley Forge in Pompano Beach, Florida at that time. "They wanted to start something new in digital printing for the hospitality industry," he remembers. "We built a platform for digitally printing samples in three days. Originally, this was an internal division of Valley Forge. We took Valley Forge's 1000's of designs and separated each one by color—12 colors or less because that is the user limitation." "We eventually moved the company to North Carolina where there is more software talent and we also have the North Carolina State textile program to draw on for future employees. We need engineers and designers." Today, WeaveUp is an independent operation with 14 employees. It has clients like Koroseal in the wallcovering business, Valley Forge and Materialized, another contract specialist based in Australia. "Koroseal and Valley Forge have already done coordinated collections of wallcoverings and fabrics in the same design," he says. WeaveUp also has a minority investor and customer with Springs Window Fashion. Other big customers are in the pipeline, Davis says.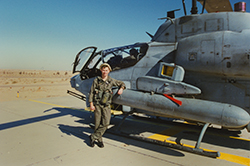 Flint Davis, Marine Corps Helicopter Pilot 1990s
Originally, Davis was a Marine Corps helicopter pilot in the 90's. He went to Harvard Business School in 1999 and after that, he became a start -up guy in video production. "I was easily bored and also curious," he laughs. In the mid 2,000's he bought a case manufacturing company and did on demand manufacturing work in the South for the hospital industry, making counters in wood, plastic and glass.
---