Valley Forge Fabrics Embraces Digital Printing Technology
Big Pluses: Customizable Fabrics and Shorter Shipping
February 9, 2019
By RAY PARKER
Fort Lauderdale, Fla. -- Valley Forge Fabrics, the largest American contract fabric converter/wholesaler, is a prime example of how digital printing continues to revolutionize the textile industry.
"Everything is going to be digital," Brandi Kolanz, director of products and design, says. "I do think digital printing will replace rotary screen printing in five years."
The family-owned company with about 300 employees started going digital in 2014, and had sales increase 50 to 75 percent in the first couple of years. Kolanz says this was due to the customizing capability, the flexibility in producing customer's designs without repeat limitations, and the quick turnaround for developments.
In 2018, the company's south campus facility digitally printed over 60,000 yards. It also has another facility for window treatments.
The biggest advantage to digital printing, she adds, is the company can ship most samples within 24 hours, although the quoted lead time is 72 hours. This is the main reason American fabric companies will be going digital.
"Customers want everything faster," Kolanz says.
Besides reduced shipping times, digital printing offers a host of advantages when compared to screen printing, including greater flexibility with design, smaller prints, and being eco-friendly. There is reduced ink and water levels – saving almost 95 percent of water and 75 percent in reduced energy costs, according to manufacturers.
In January, digital printing companies had a new place in hall 3.0 during Heimtextil, the annual international textiles expo, held in Frankfurt, Germany.
Valter Oggionni, regional sales manager for the Middle and the Far East at MS Printing Solutions, says the company has doubled its annual sales the past five years to about $100 million. The Italian-based company sells industrial, digital printing machines that range in cost from $150,000 to millions. He adds the technology, although improving every year, has major leaps about every three to five years.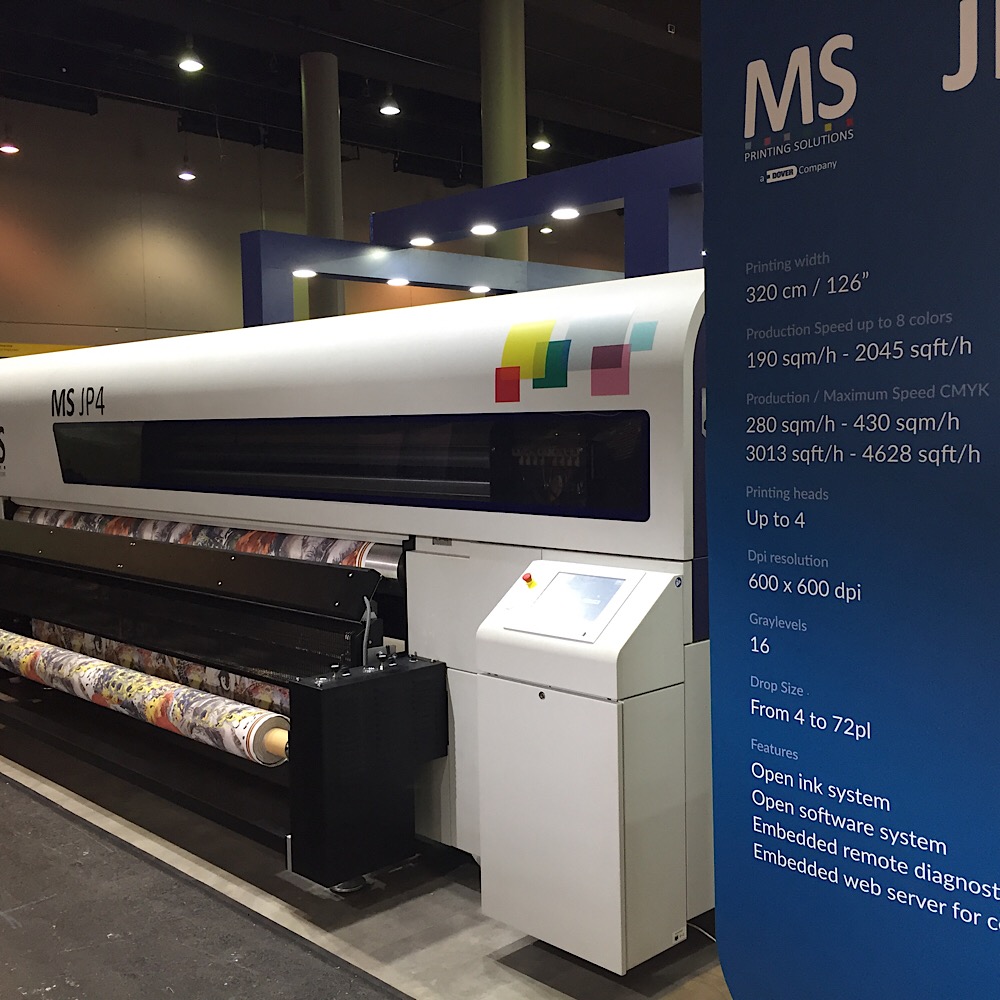 MS Printing Solutions in Italy displays its latest digital printers during Heimtextil 2019.
"We obviously think [digital printing] will become ever more in demand," says Oggionni, whose most popular markets are in China, Turkey, Pakistan, and Bangladesh.
The demand for eco-friendly alternatives was a component at this year's Heimtextil. Its Green Directory included about 150 companies with "sustainable" textiles. This theme carried over into digital printing, where major companies such as HP are developing such products -- water-based inks as well as ways to use recyclable materials.
Worldwide, textiles produced with digital printers remains small at less than 5 percent, printing officials say, but they think that will grow with advances. Andrea Negretti, international sales manager for Aleph in Italy, says the ability to cut shipping times makes digital printers more attractive.
Still, it's not that easy to simply switch to digital printers, and in the case of Valley Forge, it took a couple years to work it all out.
It can be complex as there are specific machines, inks, and treatments for different types of fabrics, such as cotton or polyester. Kolanz adds she had to stay on top of fabric-quality control, so that color control and matching kept to the highest standards. Valley Forge has its own testing lab, so it can test for abrasion rubs, fabric strength, and fire-resistant testing, among others.
The company has Mimaki and HP digital printers because of fabric specifications, plus local maintenance support since turnaround times are crucial, Kolanz says.
Valley Forge has four HP Latex machines, including the newest HP 3600 model, which allows producing 3-meter-wide-printed-roller-shade substrates, while still meeting all contract guidelines.
Sustainability is also important. All the company's print equipment uses water-based-print dyes, which are safe for the environment.
Officials started Quick Ship because digital printers allow for short-run production with customization. Valley Forge offers a range of designs, including its digital library through Weaveup.com, its in-house design department, and its network of artists, including the recent collaboration with
Porter Teleo.
The hand-painted art has been turned into a digitally printed fabric for window treatments at the Luxor Hotel in Las Vegas.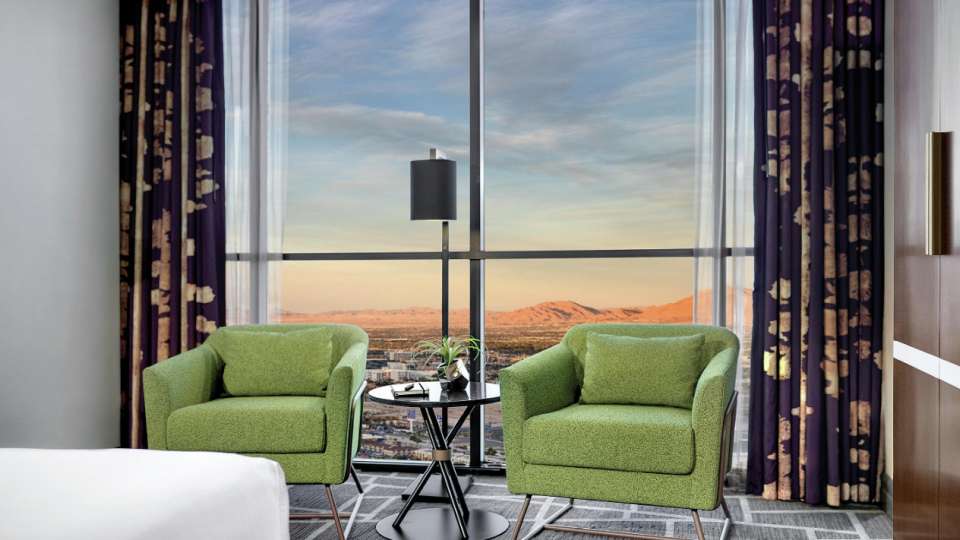 Porter Teleo's hand-painted art has been turned into a digitally printed fabric for window treatments at the Luxor Hotel in Las Vegas.
Valley Forge releases new Porter Teleo designs monthly, which are digitized and printed on a range of print bases.
Kolanz says the only drawback to digital: "There are changes all the time, as with any technology, but that's what innovation is about."  
---