Proposte Organizers Say Earlier April Dates Attract More Visitors
April 16, 2019
CERNOBBIO, Italy -- Proposte organizers say the first day of the fair, which this year started a month earlier on April 15, attracted more visitors than previous years.
Officials tried something new this year by linking Salon di Mobile, which ends April 14, with Proposte, which started on April 15, hoping to attract visitors from the Milan event.
When asked if the new dates were a success, Proposte President Mauro Cavelli says, "Yes, absolutely, there was a 20 percent increase in visitors [on the first day] … we haven't witnessed for years."
Proposte organizers held a press conference on Tuesday, April 16, to discuss the controversy. Proposte is held in the exhibition center of Villa Erba in Cernobbio from April 15-17. Officials say they will release attendance figures at the end of the week.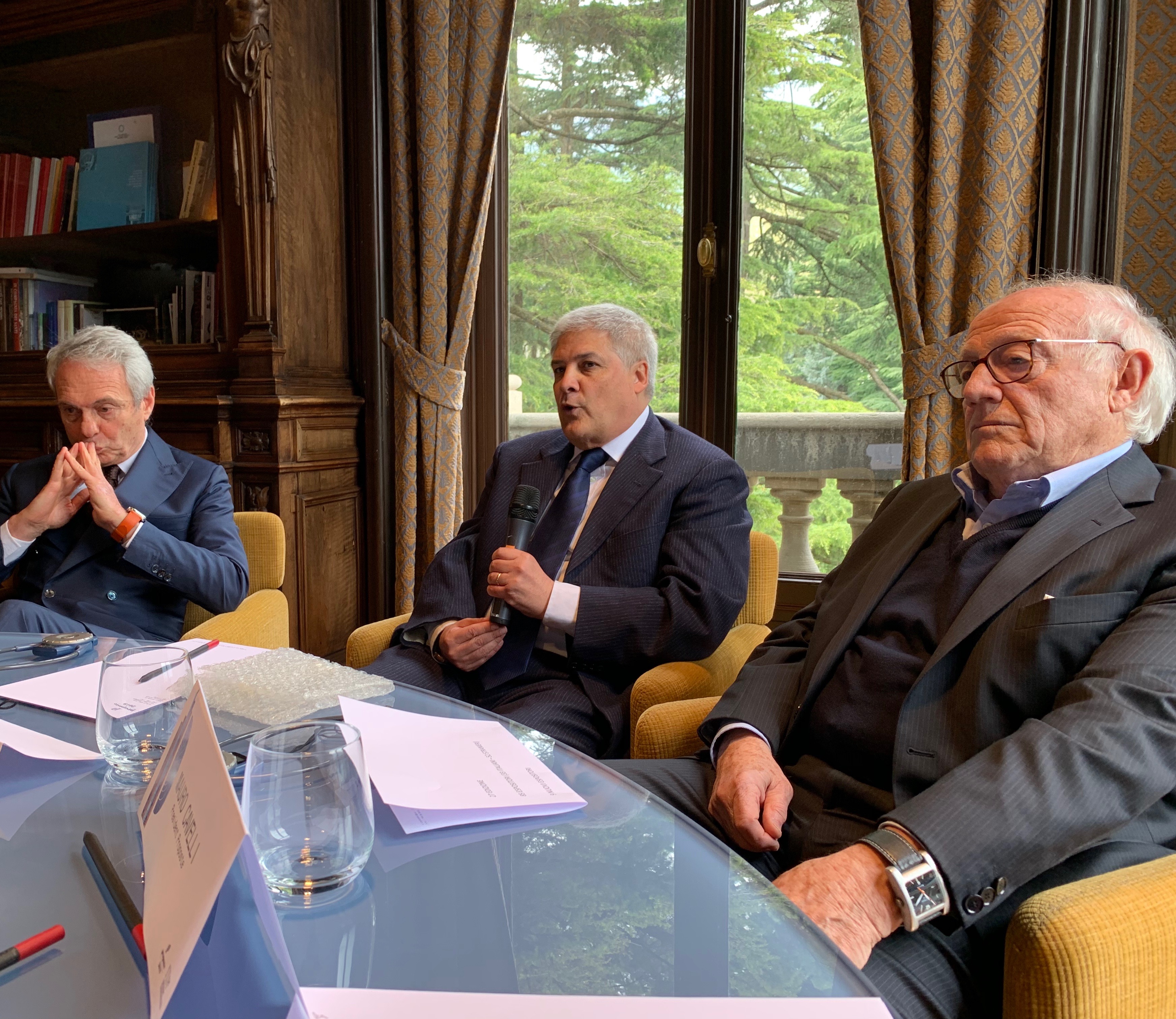 Massimo Mosiello, (left to right) Proposte general manager, Roberto Luongo, general director of the Italian Trade Agency, and Proposte President Mauro Cavelli discuss changes to this year's fair during a press conference.
Earlier, when the new dates were announced, some observers were sceptical that visitors would attend both events, traveling about an hour from Milan to Cernobbio at Lake Como. Italian designer Massimiliano Forasassi, frustrated by the change of dates at his year's Proposte as well as his difficulty in being allowed entry, writes about the tony trade show in a recent LinkedIn article.
"This edition of [Proposte] 2019 is much discussed due to the too early dates and restrictions imposed by institutions and the organization, restrictions that place limits on external exhibitors with fines that can go from 8,000 to 20,000 euros in case of early opening," Forasassi writes.
Still, Massimo Mosiello, Proposte general manager, Roberto Luongo, general director of the Italian Trade Agency, and Proposte President Cavelli, say the fair strives to improve in several ways in the coming years: attracting more buyers from around the world, such as the U.S. and China; promoting eco-friendly products; and communicating better with Cernobbio officials outside of Villa Erba.
Luongo says there were more companies from all over the world at this year's fair, especially Chinese companies.
"The Chinese furniture sector is developing in their country," Luongo says.
During the press conference, someone asked about the rumours of Proposte moving to another city, such as Milan or Florence.
Proposte President Cavelli replies that people are free to talk, but that the new Proposte board would be looking into the outcomes of this year and making any changes in the coming weeks.
Still, Cavelli signalled the fair would probably remain in its current location. He says, "This location [Cernobbio] is foundational."
Three major Italian mills dropped out of Proposte this year: Mario Sirtori, Enzo Angiuoni, and Limonta. Enzo Angiuoni opened their showroom from April 8-21.
With the loss of those three mills, the Proposte organizers sold the space to Stead McAlpin (UK), Acarca (Turkey), and GM Syntex, the first Indian mill to gain admission to what was always a European exhibition.
Overall, there are 85 exhibitors this year including 33 Italian and 52 foreign.
In the end, Proposte President Cavelli says Salon di Mobile brought more visitors to Proposte this year.
"We hope we can maintain the strong link," he says.  
---