Momentum Buys D.L.Couch, Eykon and Tri-Kes, Growing into a $200 Million Contract Textiles and Wallcovering Giant
Wallcoverings on The Rise at BDNY 2018 Trade Show
November 15, 2018
By RAY PARKER
NEW YORK -- Momentum Group, one of the largest suppliers of contract textiles, has bought one of the largest contract wallcovering groups, sister companies D.L.Couch, Eykon and Tri-Kes, which with the merger total $200 million in combined annual sales.
"It just seemed like the right time (to sell)," Tricia Salyer, founder of Tri-Kes, says
at BDNY
this week (Nov. 11-12).
Salyer, who started Tri-Kes in 1993, says she does not have plans beyond helping with the transition with Momentum.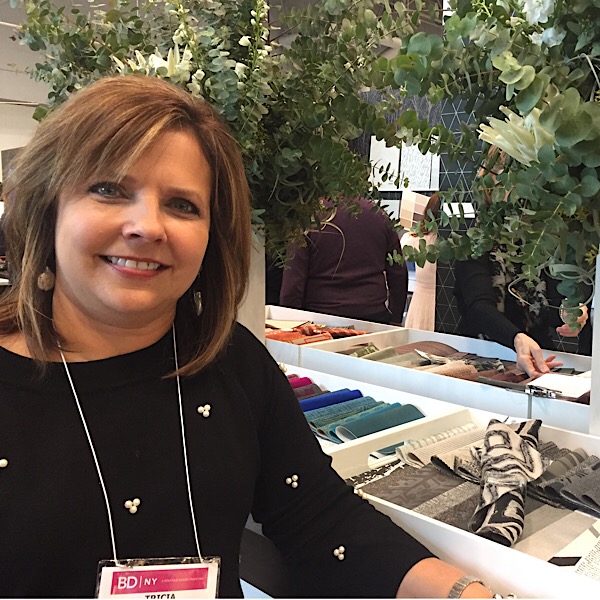 Tri-Kes founder Tricia Salyer at BDNY 2018.
At BDNY (Boutique Design New York), wallcoverings were a buzzword. The Momentum buyout shows the wallcovering trend as well as other companies entering the industry. Alexander Mayer's father started Innovations in Wallcoverings in 1974, and especially in the past few years, has seen a surge in competitors.
"Let's just say, I don't know specifics, there were 10 (other wallcovering companies) when we started out, now there's 300," Mayer, vice president of operations, says.
The New York-based Innovations created the first fabric-faced vinyl in the contract market in 1995, the first commercially viable cork wallcovering in 1999, and the first to introduce a line of environmentally-friendly wallcoverings in 2000, according to the company.
Alexander Mayer of Innovations in Wallcoverings.
Of some 750 BDNY exhibitors, almost 130 were listed in the "wallcoverings and surfacing" category.
Brad Bloom, vice president of sales, Pollack / Weitzner, says the wallcovering market continues to grow. He says Pollack offers the only linen wallcoverings held with magnets.
Suzanne Ralton is the third-generation owner of Agua Fabrics. She says the London-based company is well-known in the United Kingdom in hospitality and healthcare, and with its own performance fabrics, hopes to make inroads into the U.S.
"We continue to grow," Ralton, exhibiting for the second year. says. "Our 100-percent-polyester fabrics can be treated in many ways, while remaining (eco-friendly)."
Agua Fabrics owner Suzanne Ralton.
Textile companies continue to pair with well-known designers, so they can offer unique fabrics. Aimee Williams, senior designer at Stacy Garcia, says the company offers three new wallcovering designs. Williams says the overall design/textile theme involves nature-based colors and patterns: "bringing the outside into the inside."
Overall, the hospitality market continues to grow. Lauren Somers Pelusio, creative director hospitality fabrics at Richloom Contract, says one of the company's biggest sellers involves their collaboration with British designer Kelly Hoppen. Richloom also has a second collection with San Francisco-based designer Seema Krish.
"Hospitality is up 9 percent," Pelusio says. "It's a very strong market."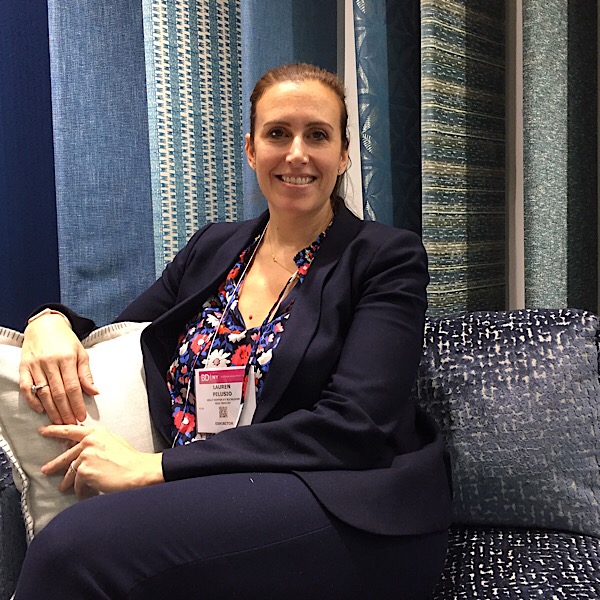 Lauren Somers Pelusio, creative director hospitality fabrics at Richloom Contract, at BDNY 2018.
Stark Carpet created a new division this year: Stark Hospitality and Contract. Vice President Samantha James says new technology has lowered the price of upscale textiles.
"It's woven on a machine, but it looks handwoven," James says.
Warp & Phil by Fabri-Quilt is the merger of two companies: a fabricator of hospitality bed coverings and window treatments, and a producer of decorative fabrics.
All the company's weaving and manufacturing happens in two North American plants: one in Queretaro, Mexico, the other a 245,000-square-foot facility in North Kansas City. It's the largest hospitality fabrication facility in the U.S., according to the company.
"We offer a lot of options," Colton Fries, national sales director, says.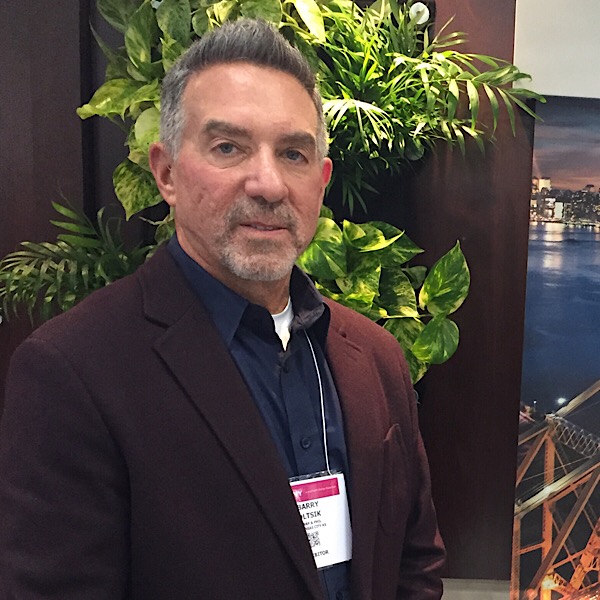 COO Barry Oltsik at Warp & Phil located in Kansas City.
Two companies exhibited for the first time at BDNY: Posh Textiles, which has headquarters in New York and a mill in Bangalore, India, and Abraham Moon & Sons; founded in 1837, it's one of the last remaining vertical woolen mills in England.
Momentum Group is the largest supplier of contract textiles, and now will be one of the largest contract wallcovering companies.
Momentum Textiles has 100 percent reduced environmental impact for all upholsteries, and its wallcovering products will begin with three reduced environmental impact categories: recycled vinyl that is recyclable: PVC-free patterns; and Woven Silica for the Walls that will launch early next year, according to a company statement.
In 1999, D.L.Couch, Eykon and Tri-Kes united to form Wallcovering Source Group (WSG), becoming one of the largest wallcovering players in the contract industry.  It expanded internationally with WSG Global Network, adding distributors in Europe, Canada, Asia, Africa and Mexico.
Roger Arciniega and Ken Salyer Jr. of Tri-Kes are leading the transition with Momentum.
WSG Global Network products include textiles and national wallcovering brands such as Lanark, Magnolia Home by Joanna Gaines, Commercial Wallcoverings, Source One, Stacy Garcia, Studio Source, Tower and Versa.
"From our very first meetings all interactions have been comfortable, productive and efficient to the point where we could finish each others (sic) sentences," Momentum CEO Roger Arciniega says in a statement. "Culture is one of the very most important aspects of transactions of this scale…."  
---