Global Supply-Chain Expert: U.S. Businesses Reopen in May, Rise During Summer, Recovery in September
Freight costs could double
April 14, 2020
NEW YORK -- U.S. businesses will reopen in the first two weeks of May, rise throughout the summer, and in September show the first signs of recovery, says Thomas Cook, CEO of Blue Tiger International, which helps companies with global supply-chain management.
He adds China will recover first, then the U.S. and Europe, and the rest of the world about a month later.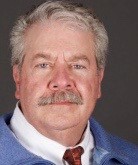 Thomas Cook
"We will come back, Americans are the most resilient community on the planet," Cook said during an April 13 webinar called Solutions for Mitigating the Impact of COVID-19 on Global Supply Chains. "This COVID-19 pandemic has decimated the global supply-chain for all countries and businesses, and with New York both a center of global trade, and now the epicenter of the pandemic, supply-chain risk management is now a 'household' word."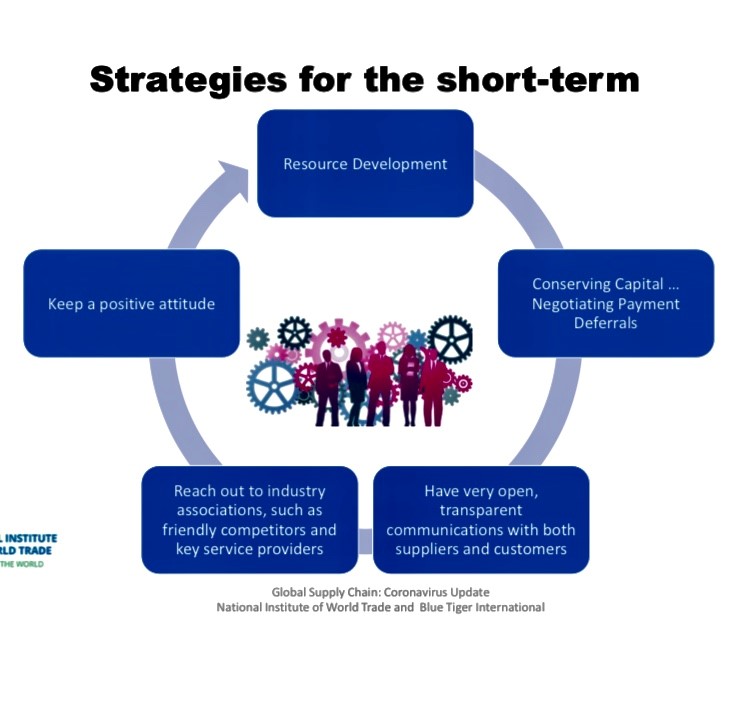 A slide from the webinar presentation on global supply chains. 
During the hour, Cook gave the following suggestions for short-term supply-chain export strategies:
Watch receivables closely;
Transparent communication is important;
While other countries and companies contract, this could be the time to get aggressive;
Offer deals, terms, and creative approaches;
Approach existing import accounts overseas and find out what they may currently need in their country that you can source here in the U.S., possibly different then what you are currently selling;
Work with the Department of Commerce and other their trade specialists (check out website, www.Export.Gov).
Freight costs will continue to increase.
"Freight is still moving, the census we received last week, it's at about 60%," Cooks says.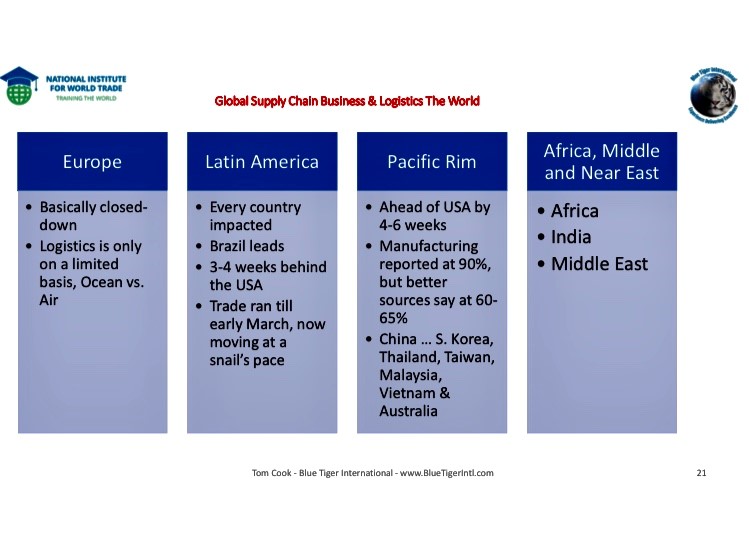 A slide from the webinar.
In Europe, he adds there's been much more air freight services (100%) than ocean freight services (65%).
In the Pacific Rim, countries are ahead of the U.S. by 4-6 weeks, while China is now manufacturing at about 60%-65% due to shortage of some basic materials, he says.
Ocean freight prices could increase 20% to 100%, Cooks adds, but in general he expects a 20%-25% increase for freight costs.
Mexico has seen a big increase in business from U.S. companies, especially because of U.S. tariffs on Chinese goods. However, there will be no changes to those tariffs for 90 days, and he expects that to continue to end of year for the 232/301 tariffs.
"In Mexico, a lot of companies have moved there because of the advantages," Cook says. "So much, there's a strain on manufacturing there."
Overall, Cook recommends the following strategies in the short term:
keeping on top of resource development every day; conserving capital and negative payments; having open communication with both suppliers and customers; reaching out to industry association and government agencies; and keeping a positive attitude.
Overall, Cook recommends these strategies for the long term:
creating vendor-risk assessments; having alternative sourcing and tiering suppliers; and diversifying tier-one supply sources.
He also recommends looking for Free Trade Agreements, bonded warehouses, foreign trade zones, and freight assessments, among others.
The webinar was co-sponsored by the National Institute for World Trade.
"Today, there are over 1.8 million reported (coronavirus cases) worldwide in over 100 countries with over 107,000-plus deaths," Cook says. "In the USA, there are over 561,000 cases in 50 states and 22,000-plus deaths."
A slide from the webinar. 
Cook is CEO and managing director of Blue Tiger International (bluetigerintl.com), an international business consulting company on supply chain management, trade compliance, purchasing, global trade and logistics.  
---