Elastron Group, a Major Portuguese Fabric Company Undergoing Tremendous Growth, Enters U.S. Upholstery Market during Showtime
December 10, 2018
By RAY PARKER
High Point, N.C. -- Elastron Leather & Fabrics premiered at ITA Showtime Market (Dec.2-5), seeking to add the U.S. upholstery market to the more than 70 countries it now exports.
By showing for the first time at Showtime, and at future U.S. tradeshows, Elastron officials predict it will help propel the company's tremendous growth: From selling 450,000 euros in 2009 to 35 million euros in 2017 in the European markets. It's also grown from six employees to 130 in that time.
CEO Jose Carlos Oliveira said the company, which has headquarters in Portugal, is one of the fastest growing in the European Union because it has been able to adjust to the needs of the market. Elastron is a global wholesaler of leather and performance fabrics with 80 articles in 2,000 colors. It has about 2 million square meters in stock in its warehouse in Germany, according to the company.
"We're here checking it out," Carlos Oliveira says at the company's Showtime booth.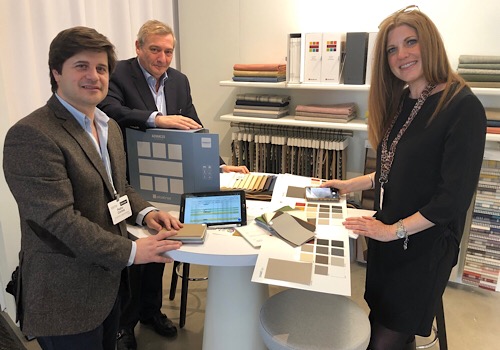 Pedro Correia, commercial director, (l to r), Gustavo de Castro, area sales manager, both of Elastron, and Melissa Wyman, design manager of UTP America in Winston-Salem, N.C.
Showtime Market is held twice a year in June and December and brings together some 800 companies offering fabric, leather, and trim, along with associated businesses. The event will be held next June 3-6, 2019.
While 2018 marks Elastron's entrance into the U.S. market, the company has been expanding for the past 40 years. It started in 1978 with headquarters in Portugal, adding plants in Spain and Germany in 2015, and Shanghai in 2017.
In 1978, Elastron started as a commercial agent of Italian premium leather for the upholstery industry; in 1998, it added a shoe division; in 2006, it added fabrics such as natural leather, synthetics, and microfibers, thereafter, exporting its products to the Spanish and Italian markets.
"We sell all over Europe and some of the Scandinavian countries," Carlos Oliveira says. "This was a good time to see the U.S."
The company's factory production is some 30,000 catalogs per month.
The CEO discusses how the company's performance fabrics could help them in the competitive U.S. market, by incorporating a treatment that requires only water to clean the fabric.
He demonstrates by pouring wine on one of the upholstery samples, where it just rolled across the surface until he smears it in. Then, taking a cloth with water on it, he slowly cleans off the wine in seconds.
With its performance fabrics, called Advanced Fabrics, Carlos Oliveira says the company has been expanding into the contract and hospitality markets across Europe, and now into the U.S.  
---