Economist Predicts Optimistic Forecast for Next 12 Months: No U.S. Recession
Some 400 Association for Contract Textiles (ACT) 2019 attendees hear about a moderate U.S. economic growth
October 7, 2019
NEW YORK -- In a speech in Lower Manhattan during the annual ACT conference last week [Oct. 2-3], Wells Fargo Securities Economist Michael Pugliese predicted a bright future for the U.S. economy.
"Our outlook the next 12 months is moderate growth (and) no recession," Pugliese said to about 400 attendees on the New York University campus.
In his presentation last year at ACT, Pugliese predicted construction would increase across all sectors: from 3.5% in healthcare to 8.2% in other commercial construction in 2019. His predictions came true, a handful of textile businesspeople said, who have seen contract increases and residential decreases this year.
"I hope he's right" about no recession, TSG Finishing CEO Brian Rosenstein said.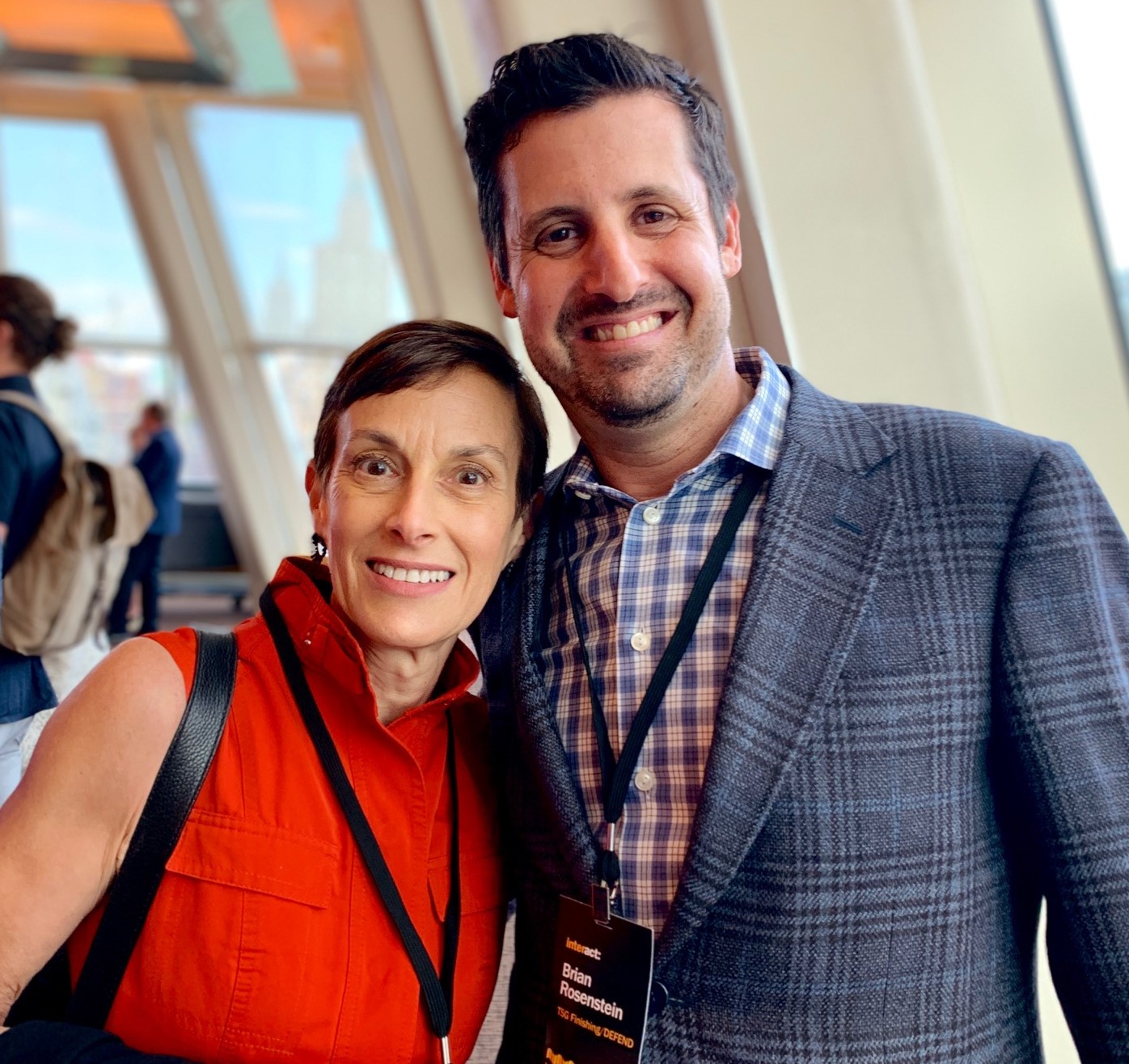 Ivy Berman, principal of IV Sales and Consulting, in New York City and TSG Finishing CEO Brian Rosenstein from Devon, Pa.
Throughout the two-day conference, eight speakers gave presentations including three discussing about how technology, specifically the internet and social media, continues to change the industry. But four people including Rosenstein said the economy is a primary concern.
Economist Pugliese focused on several economic indicators he believes point to moderate growth in the next year: the U.S. has the largest deficit of the world's major developed economies at –4% of gross domestic product. The GDP is the monetary value of all finished goods and services made within a country during a specific period.
Although it would a first seem a negative, Pugliese said the U.S. budget deficit means lower interest rates, better employment, and therefore more investment overall.
Another positive indicator is employees saw their paychecks increase: real-wage growth increased this year on an inflation-adjusted basis, especially for workers in lower-paying industries, which increased 4.3% in July.
In addition, U.S. household debt continues to decrease, while disposable income increases. The U.S. ratio to disposable income has recently diminished by 8.1%, and household savings is high.
"This is a positive trend," he said.
Wells Fargo Securities Economist Michael Pugliese lives in New York City.
Wages are expected to increase because of a shrinking labor pool. The U.S. prime-age population, or those 25 to 54, has remained flat since 2008.
Overall, the U.S. economic growth will slow from 1.5% to 2% in the next year, while core inflation has fallen below 2% since the end of 2018, so no recession is expected, Pugliese said.
U.S. TARIFFS ON CHINESE PRODUCTS
Although the U.S. trade deficit with China is relatively large when compared to America's other major trading partners, only a small share of U.S. products is derived from Chinese demand.
Simply, China relies more on exports to the U.S., or $481 billion in 2018, than the U.S. on exports to China, or $120 billion. The U.S. exports $2.5 trillion a year in goods and services, therefore it has a small "export exposure" with China, Pugliese said.
He pointed out that most countries face slower economic growth in the next year including China, which must balance the demands of meeting economic targets while preventing debt imbalances.
"[China] has eased monetary policy to stimulate their growth" Pugliese said. "Their growth will continue to downshift to a more sustainable pace."  
---