Dicitex Furnishings Streamlines Administrative And Manufacturing; $91 Million Annual Sales and 5% Growth
"Value-Added" Products, Such as FR Velvets And Lurex Cotton Furnishings, Sold to U.S. Hotel Chains
February 19, 2020
By Vishnawath S.
MUMBAI--Dicitex Furnishings Pvt. Ltd. is consolidating various manufacturing and administrative operations to streamline the company, according to Nimish Aroraa, managing director.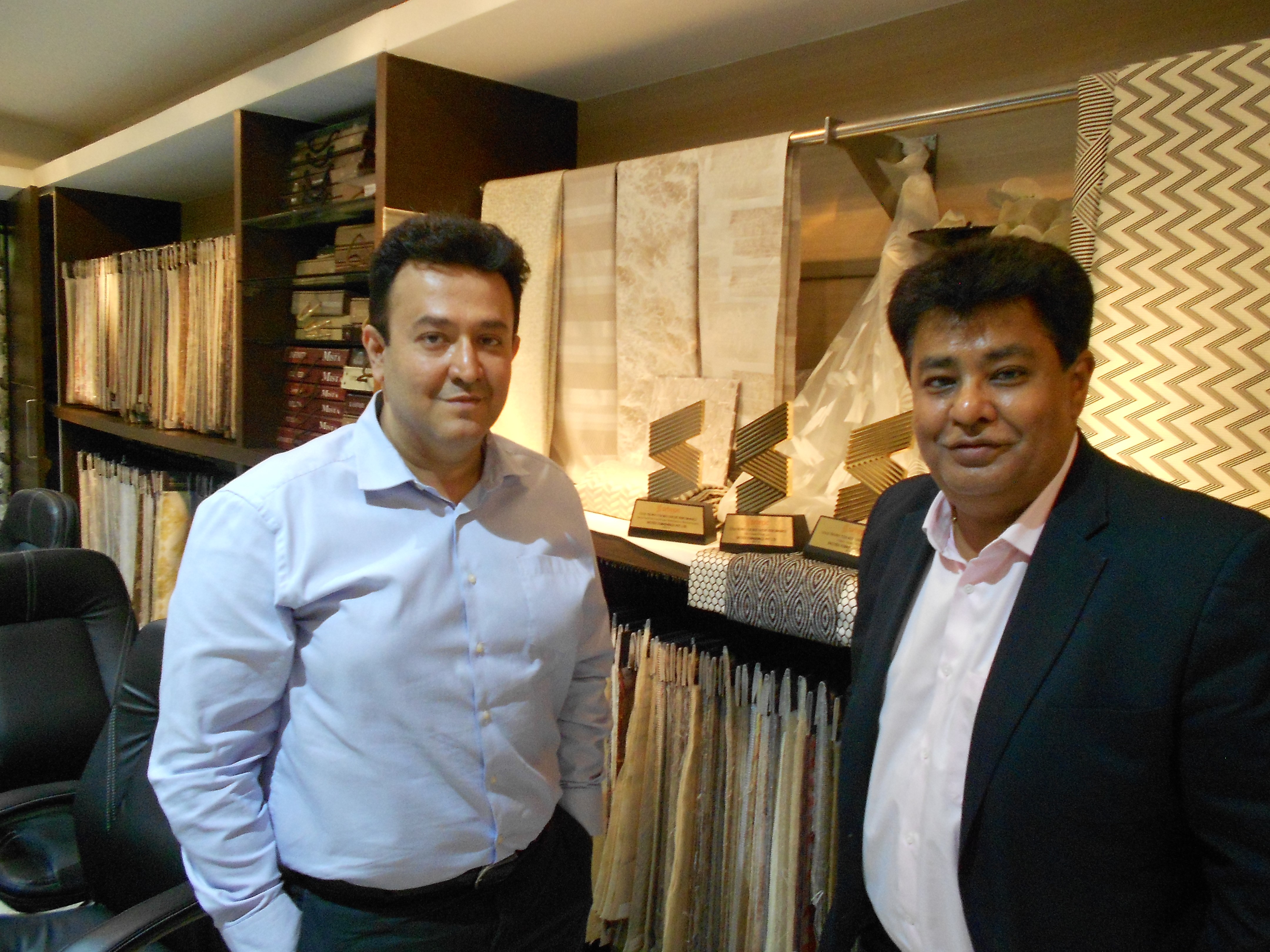 Brothers Nimish and Rajjnish Aroraa see potential in the U.S. markets, especially in hotels, for Dicitex.
He says Dicitex has completed 20 years of furnishing business achieving an annual turnover of $91 million and is growing at 5% a year.
"We aim at a steady top-line growth but with increased profit margins," says Nimish Arroraa, managing director, Dicitex Furnishings. "The current atmosphere in the marketplace does not encourage us to keep increasing capacities."
Instead, he adds they've chosen to add value through an innovative line of products while focusing more on U.S. and U.K. markets.
"Importantly, we have begun online marketing with select channel partners for ready-made products, such as curtains and cushions in the USA," Arroraa says. "We are also marketing recycled and inherently FR fabrics to the hospitality segment in the USA."
In particular, foil-printed fabrics, embroideries, velvets, and FR velvets, and lurex cotton furnishings, including jacquards and plains, continue to sell well, he says.
Dicetex has already secured orders for such fabrics from leading U.S. hotel chains. "The company has begun the year with orders worth $8 million on hand and will focus more in North American markets, which is growing at 7% plus, with other markets stagnant, while U.K. sales are good," he says.
The U.S. remains the most promising market for the company.   
"Elsewhere, the markets are average to negative like in the Middle East due to political uncertainties, though buyers want to stock the goods with a long period of credit, which we are not keen to extend," Arroraa, says. "Now, the USA is the most important market for us and we are working with dozens of converters, and online marketing with select channel partners, in order to enhance our exposure in US markets further."  
Dicitex Furnishing's Vice Chairman
Rajjnish Aroraa
was nominated as vice chairman-CITI YEG of the Young Entrepreneurs Group (YEG) of Confederation of Indian Textile Industry & Members, which includes spinning and weaving segments to clothing and machinery manufacturers.
"This is a privilege to serve the Indian textile industry as we are able to present our views to the government about various issues including environmental systems, power-saving technologies, and such issues that Indian textile manufacturers face regularly," said Rajjnish Aroraa, vice chairman of Dicitex Furnishings. "This gives me also an opportunity to serve the textile community and put across any grievances that are faced by the industry to the ministry of textiles."
Also, Rajjnish feels that several measures adopted at Dicitex will make it more efficient as far as manufacturing costs as well as administrative costs.
"Last year we invested over $5 million and we have budgeted to spend similar money in the current year too," he says. "My brother Nimish and I will together continue to lead the company more confidently than ever before."    
---