China's Hangzhou Hightex Opens New Factory And Goes Vertical
Low-end market not affected by U.S. tariffs
October 14, 2019
SHANGHAI -- Hangzhou Hightex Co. Ltd, a manufacturer of upholstery fabrics and finished products, will open a new factory in Hangzhou.
Wenlong Lu, president and founder of the company, says the 50,000-square-meter [538,000-square-foot] facility, which employs 600, will open in a couple of months. It's a final step in his ambition to make his mill "vertical."
"We want to be more competitive," Lu says through an interpreter. "Before [the mill] was only for weaving, now, we also have the before- and after-weaving."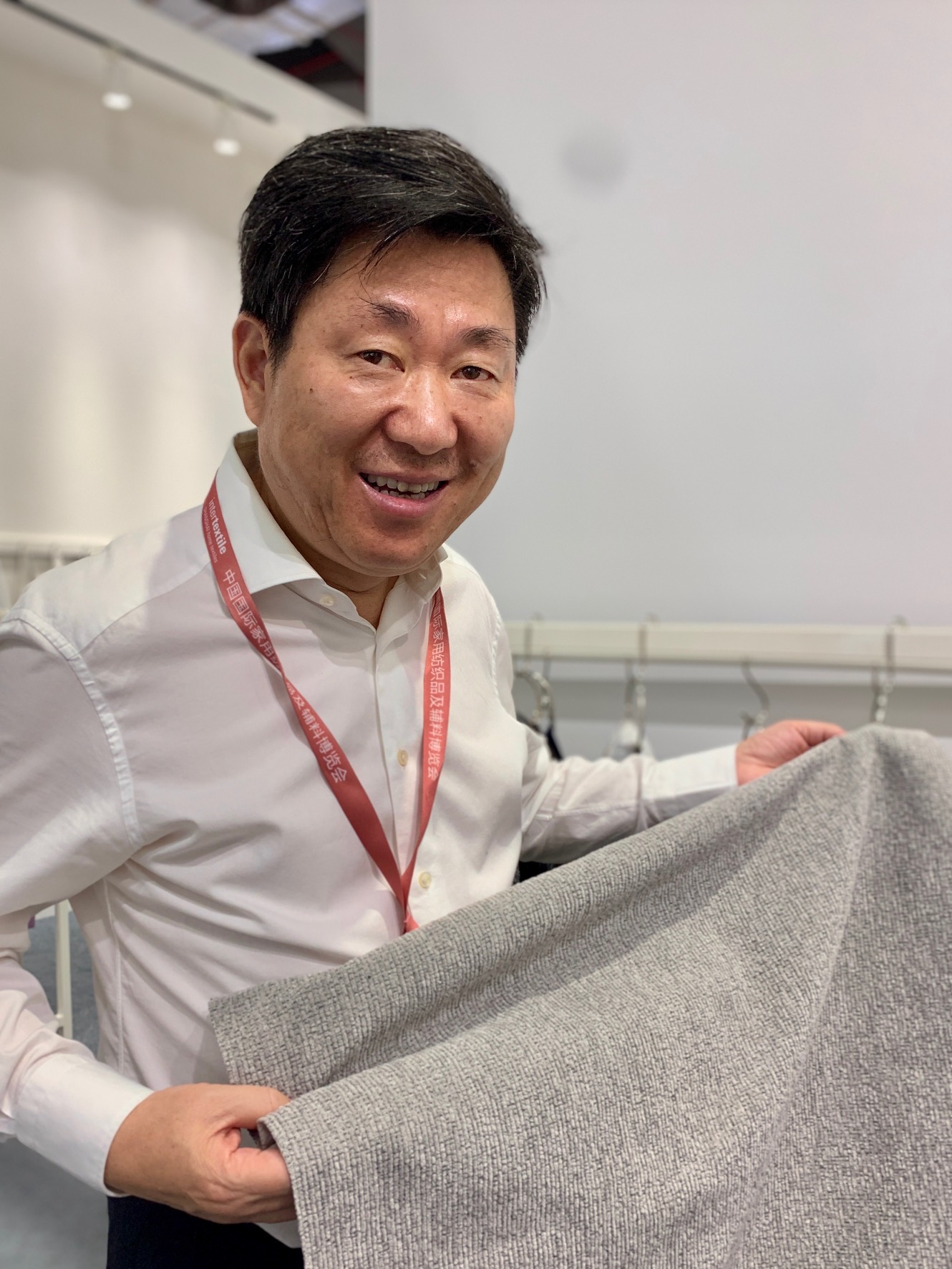 Wenlong Lu, president and founder of Hightex, shows a best-selling fabric during Shanghai Home Textiles [Aug. 28-31].
Hightex will be able to source, manufacture, and coat its cotton-linen fabrics, nylon-cotton-blended fabrics, bamboo-fiber fabrics, and other related products. The new mill will have an annual capacity of 20 million meters.
On the F&FI World's Top 50 Mills Listing, Hightex ranks No. 32 with about $20 million in sales annually.
Lu says he's not worried about the U.S. tariff on Chinese goods because the "low-end market is good, but higher-end is tougher. We're very good," he says. "It is not been an issue because our price is very competitive, even with tariff."
Hightex sells about 70 percent to the U.S., under its own True North Fabrics brand, and 30 percent to the domestic market.
In the industry for 30 years, Lu started as the president of a chemical factory at 25, but he soon started his own textile company. He says over the years, there have been opportunities to invest in real estate and other ventures, but he wanted to stick with textiles.
"I always look at the economy, both domestic and international, so I can predict what's going to happen," Lu said.
Still, he's not so optimistic about the global economy.
"The furniture industry is going to be reorganizing as well as the textiles related to it," Lu says.
He notes one of the biggest changes in the industry has been the speed of business, the need to make more fabrics in less time.
He used to make a product and sell it for five years. "Now, it's two to three years to give customers something new," Lu adds.  
---