ACT Conference Attendees Learn About the Better Economy, Virtual Reality, and Green Chemistry
Some 350 Association for Contract Textiles members gather in NYC
October 13, 2018
By RAY PARKER
NEW YORK -- Some 350 textile business leaders gathered this week, learning that American construction has been estimated to increase across all sectors in 2019: from 3.5 percent in health to 8.2 percent in retail and other commercial construction.
"The economy is doing better," Michael Pugliese, an economist with Wells Fargo Securities, said.
During the annual ACT (
Association for Contract Textiles
) conference, Carol Cisco of Interior Design gave the audience a big-picture look at the contract industry from the designers' perspective.
One example involved the increasing demand for acoustical textiles, especially given the open design of many new offices.
"It's only going to increase," Cisco told the audience gathered on the New York University campus.
Throughout the two-day conference, representatives of companies involved in the design, development, and production of commercial textiles learned not only about economic predictions, but business changes, such as how designers are using augmented- and virtual-reality tools, and how textile vendors can play a part.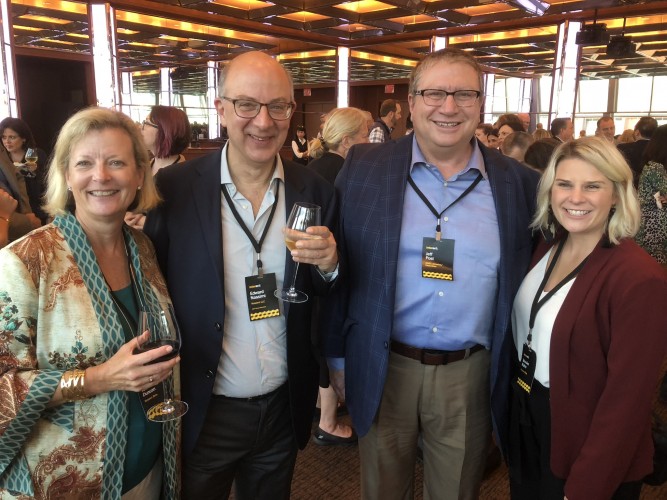 (L to R) Ann Duncan, COO, kb CONTRACT, Edward Nassimi, President, Nassimi, Jeff Post, President, CGPC America/Enduratex, and Brooke Kahn, Senior Marketing Manager, Keyston Bros.
Mark Pollock, a digital design director at Gensler, said VR technology helps explain the visual and spatial aspects to clients.
"It's had a huge impact on interior design," Pollock said.
Ali Ucer of IA Interior Architects said there could be even more cooperation between designers and vendors by giving greater attention to precise dimensions and scales to fabrics on their websites.
Later, when asked by a reporter, two textile companies, Maharam and Tri-Kes, were given kudos for their VR compatible downloads and dimensions.
John Warner addressed how the textile industry could become eco-friendly from the start: hire "green chemists."
Warner, president of the Warner Babcock Institute for Green Chemistry, explained how university chemistry majors could receive a better education, especially by being exposed to courses in toxicology and other environmental mechanisms for sustainability.
"We should look at how we educate chemists," Warner told the audience. "Why would a chemist want to make a hazardous chemical in the first place?"
In Green Chemistry, the chemist begins inventing by first asking the impact on the environment and people, Warner explained.
Hoe Jung, Principle, Concertex and Aaron Mensik, Design Director, Concertex.
An audience member asked Warner his thoughts on California's Propostition 65, which has a long list of "hazardous" chemicals. Warning labels for consumer products must state that the product "can expose you to" a listed chemical that could cause cancer or reproductive harm. In addition, the word "WARNING" must be in all-capital bold letters along with a warning symbol, which is a black exclamation point in a yellow or black and white triangle.
Warner replied he resigned from the Prop 65 committee because he did not agree with the "regulating" of chemicals.
In a later interview, Warner said regulations on chemicals remains unproductive, and a more efficient way to sustainability involves Green Chemistry. He noted the EPA (Environmental Protection Agency) has an extensive list of how chemicals interact on its website.
"But no chemist is using it," Warner said.
Here are more figures from Carol Cisco's overview on the textile industry.
Top 5 Growth Markets in Office: New York, Washington D.C., Chicago, Seattle-Bellevue, and San Francisco.
Top 5 Growth Markets in Hospitality: New York, Dallas, Houston, Nashville, and Los Angeles.
Top 4 Growth Markets in Healthcare: New York, Atlanta, Chicago, and Dallas.
Top 5 Sources Designers Use for Finding New Textiles: Design publications, Rep presentations, Digital searches, Manufacturers websites, and Tradeshows.
Top 5 Resources for Specifying Textiles for a Project: Internet search, Sample books, Manufacturer websites, Manufacturer reps, and Showrooms
Top 5 Insights Designers Want from a Textile Rep: New products, Unique product-offering; Solutions for project issues; Full product offering; General product knowledge.
Types of Textile Finishes Specified Most in Past 2 Years: Stain resistant (64 percent); Flame retardant (35 percent); and Antimicrobial (29 percent).
---